Max, a young miniature horse that's about two years old, was minding his own business in his hometown of Acushnet, Massachusetts. His mom, Julie Nightlinger, adopted him when he was just four months old, welcoming him into her home and generous yard. Max has always been extremely well-loved and cared for in his home.  Then, one day, Max took a bullet to the leg. The family is still trying to find out whether it was a hunting accident or an intentional incident, but they won't rest until they know the truth.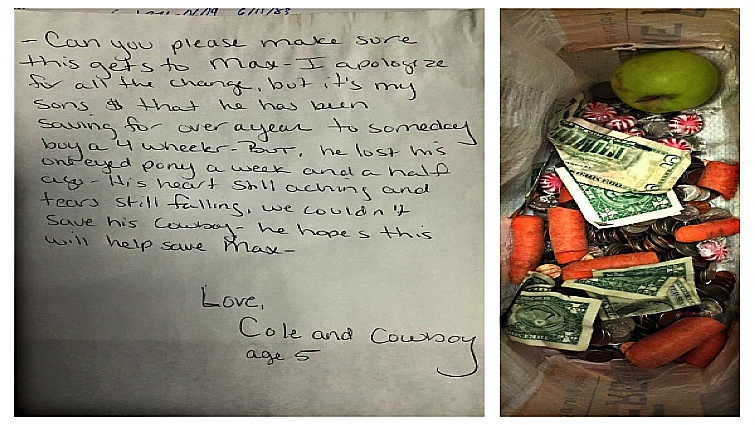 They mainly don't want what happened to their own baby to happen to anyone else's animal in the area. When they took Max to the vet, the doctor almost immediately knew that the pony would have to lose his leg…but he assured his mom that he'd get a new one. Without knowing the extent of expenses that comes with getting a horse a prosthetic leg, including flying in doctors and for the leg itself, Nightlinger set up a GoFundMe page to help pay for the inevitably immense expense.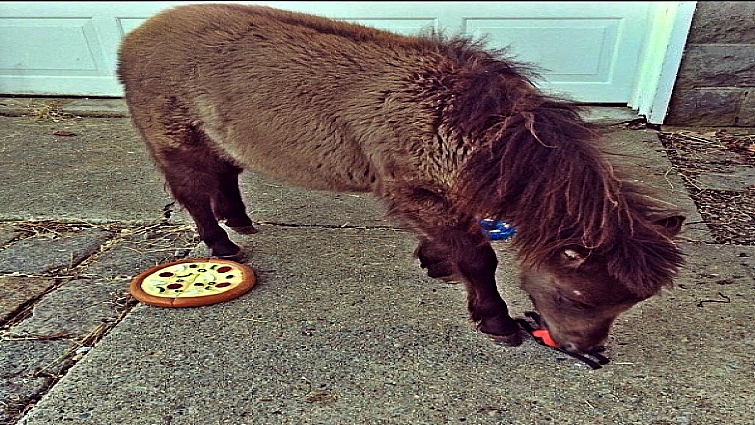 The response has been absolutely incredible. When the community saw that this family needed help getting one of it's most beloved members' medical help, hundreds of people contributed. But there is one donor that really touched the family's heart. As the note says, Cole just lost his own miniature horse named Cowboy. Along with all of his savings that came in the form of jingling coins, Cole sent along with carrots, apples, and mints to keep Max happy and comfortable while he waits for his leg to be fixed.

The transportation to the Equine Center, where Max will begin his long process of treatments, was provided in full by the Boston Animal Rescue League. Plus, with a goal of $30,000, the family has already raised over $10,000! Despite the pain, he's kept his chin up, and so has his family. It's been a hard year for them, but they are sure that life will soon return to normal. At the end of it all, the plan is to train sweet Max to become a therapy horse, so that he can help others heal as his community is helping him now.