Therapy pets go to hospitals, retirement homes, nursing homes, or schools. We usually see dogs working as therapy pets, but other animals such as cats, bunnies, and horses are also good therapy pets. They are all very well trained, have excellent temperaments, and are very friendly towards humans. Therapy pets do an amazing job by helping all patients and hospital residents by cheering them up and lowering their blood pressure.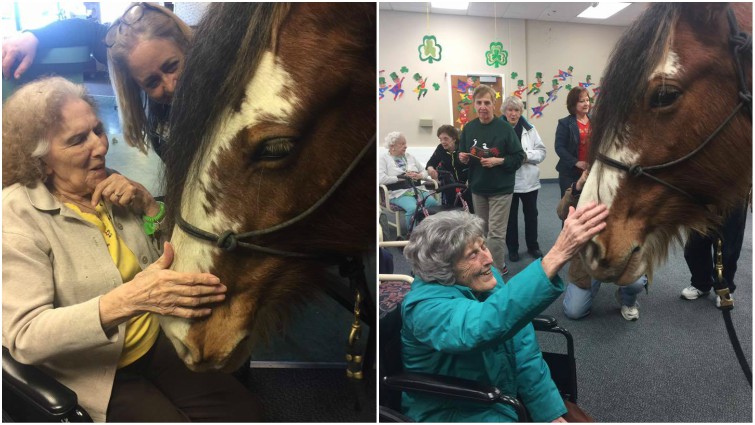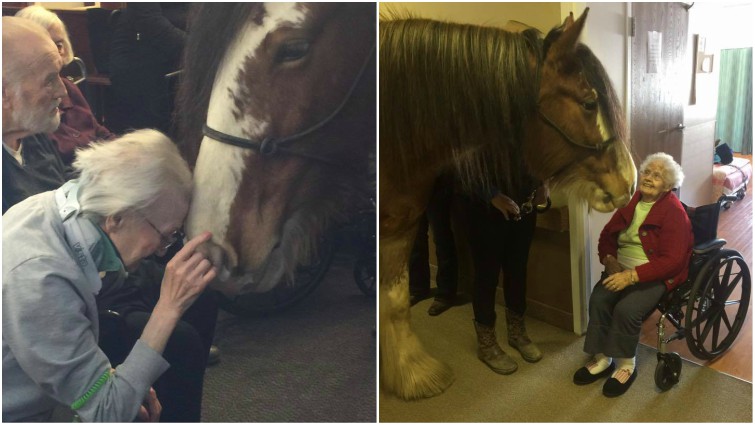 Amongst them, there is a special Clydesdale horse who has won people's hearts with his kind attitude. Her name is Renee, 9-year-old, but her friends from Chamberlin Pony Rides & Mobile Petting Zoo call her Neigh-Neigh. Lately, the gentle giant was sent for a visit to the Village of East Harbor Senior Living Community.


The staff members were a little bit suspicious about bringing such a massive horse into a nursing home, but the administrator of the facility, Carolyn Martin, was decided to make the event happen. It was safe to say that her idea was brilliant because Neigh-Neigh brought such joy to all the residents, even the skeptical ones who don't like participating in these kinds of events.


She was supposed to stay there for only an hour, but her visit stretched to nearly 3 hours because she visited everyone personally. By the end of her visit, some people were even crying amongst families and friends. Neigh-neigh is also open to visit nursing homes in Southeast Michigan, Toledo, Ohio, and the neighboring areas. Watch the beautiful video below for more!