Check out the video at the end of the article! 
We have talked many times about the special relationship between humans and horses and even showed different stories who proved this strong bond, but there is even a stronger connection that we haven't mentioned enough, that is the bond between horses with and each other. They are so protective and love each other so much, that even us humans are jealous.  Maybe you have thought that horses don't remember each other after they have been separated but the truth is that they remember everything and fall in love deeply, just like humans.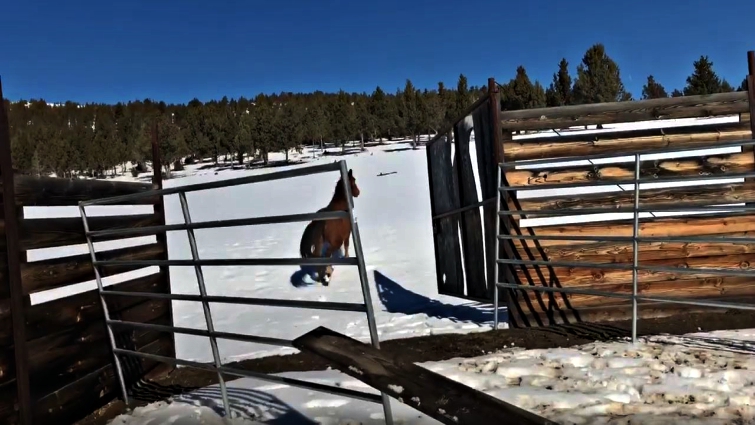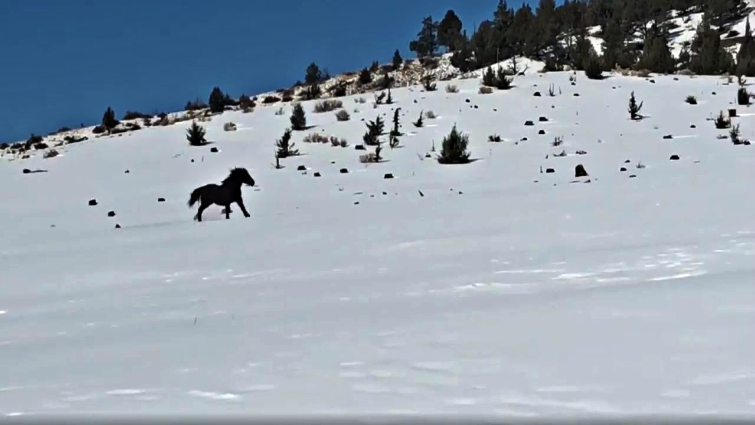 To prove this we are going to show you a very moving story which occurred in October 2017 when the Bureau of Land Management (BLM) government helicopters flew over a herd of beautiful wild mustangs, corralling them into a holding pen. They captured and rounded up Goliath, 26-year-old wild mustang and other horses, among them even his mate Red Lady. Goliath was sent to a holding facility in Utah while Red Lady was put up for adoption and they had lost hope that they would see each other again. He was desperately protecting his herd during one of the roundups, but unfortunately, he was not able to do so.



He was departed from his mate, Red Lady and was devasted to be away from her lover. They were taken into separate locations and probably thought that they will never see each other again. Goliath was taken to the holding facility in Utah while Red Lady was brought to the Skydog Ranch in Oregon.  They thought they were fated to never see each other again. BLM's roundups or 'gather' as they call them are used as a way of 'population control' to maintain a proper genetic diversity. This is something commonly done by the Bureau of Land Management to give cattle ranchers more space for their herds.
The meeting ….. Goliath ran fifty acres across a pasture when he saw her. This is what we have all been waiting for. It happens so rarely but here in this video is iconic wild horse Goliath who lived all his 26 years in the wilds of Wyoming on Public lands with his family, until last October when they were all rounded up and separated into different BLM holding facilities. This is the moment when Goliath spots his lead mare Red Lady who is pregnant with his last foal and runs to be with her. This is a dream come true xx

Posted by Skydog Sanctuary on Tuesday, March 6, 2018
As a result, wild horses are often torn apart from their families to be either auctioned off or sent to separate farms or sanctuaries. Skydog, founded in 2016, has a made an enormous work by reuniting families of mustangs separated during rounds up when it is possible to intervene. Clare Staples, the founder, and president of Skydog Ranch was determined to reunite Red Lady with her beloved Goliath, but it would be no easy achievement. The Skydog Ranch site says that "often the horses rounded up have no history documented on them to figure out what stallion is with what mares and family bands are almost impossible to reunite."



Thanks to tireless efforts, hours of research and lots of selfless donations, Clare and her team were able to track down Goliath, win his auction, and bring him back to Skydog. They managed to reunite Goliath and her mate Red Lady, who was at that time carrying his baby foal. In the touching short movie, it shows the full story from the moment Goliath traveled to Skydog sanctuary, when he was reunited with Red Lady and when finally, their Bodhi was born. In March 2018, the team waited with bated breath as Goliath reunited with his soulmate. Everyone was asking the same question: Would the horses recognize each other after six months apart?



"These two horses had been together in the wild for years but it was possible that they would not remember each other and be indifferent BUT when Goliath spotted Red Lady he raced the entire distance of three football areas to reach her," Skydog reported. "It was the most incredible sight and if anybody ever doubted the bonds these horses make they were gone after this reunion." The touching moment when they first met each other after 6 months was captured in the video below and I'm pretty sure it will leave you speechless. After they met, Goliath did something that made everyone shed a tear: He touched her belly with his nose as if he knew she was pregnant with his foal.



And guess what? Goliath was right. Red Lady had been pregnant with his baby all along! Not only did the pair recognize each other and continue where they left off, but they got to welcome the birth of their foal together. Soulmates are real, even for horses. This is proof that even for animals, love exists. Thankfully, Clare Staples and her team did not stop until Goliath and Red Lady are reunited. See the emotional reunion between Goliath and Red Lady in the video posted below. It would mean so much for us if you shared this video with your family or friends, in order to raise awareness and reunite even other horses who are separated from each other.
Red Lady's baby having his first run x

Look at this gorgeous video of the new foal testing out his long legs and having a blast this morning as his mama didn't even worry for a second as he ran in and out of the trees. Today is the last day to donate anything more than a dollar and then write "donated" below and put your suggestion in for his name and we will be picking the winning name tomorrow morning. To donate to have your name included in the draw go to www.skydogranch.org and hit donateIt is not too late to help feed some of the over sixty rescued mustangs at our sanctuary and be in the running to have the honor of being the person to name this incredible horse. For anyone who ordered some of our merchandise yesterday the orders have already been sent and we hope you enjoy you swag.Thank you already so much to everyone who has donated and we will be coming up with some more fun ways for you to continue to donate until we meet our Spring target at the end of the month.Here is our little boy showing off his new moves xxxx

Posted by Skydog Sanctuary on Tuesday, April 17, 2018