I'm pretty sure that you can all identify a Cremello horse as soon as you see one. These special horses are recognized all over the world because of their cream color with no marks, a white mane, and a tail. Unique and elegant with a pinch of a noble appearance, Cremello horse is also known for its blue eyes and pink skin. For everyone who is interested in buying a Cremello horse, they have to know that these types of horses must be absolutely washed quite often and you should be very proficient in grooming because every single dirt can be noticed on their glorious coat.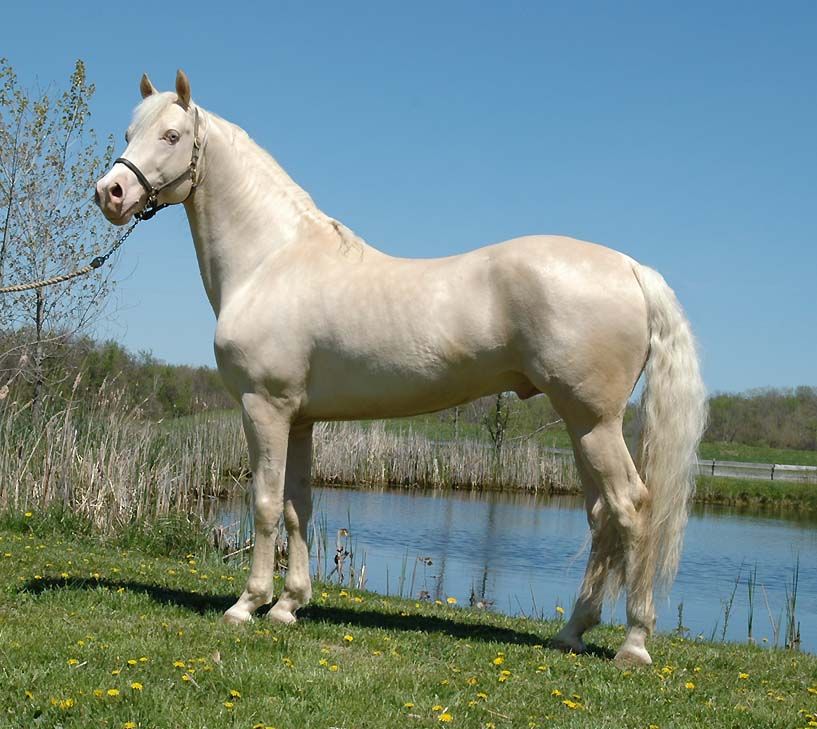 These horses are listed by the Cremello and Perlino Educational Association (CPEA) and American White & American Crème Horse Registry. The cremello is a special look in horses due to the appearance of the cream gene, which creates various coat colors. Its effect on a chestnut base color produces the palomino while on a bay base creates the perlino or buckskin. The overall effect of the cream gene is to make lighter the eye, skin, and coat. A cremello will only create palomino and smokey black when developed to horses that do not have the cream gene (chestnut, bay, or black). If the cremello or other parent carries the agouti gene, they could create a buckskin. Cremellos that are homozygous for the agouti will never create smokey black or smokey cream foals.



Cremellos have one of the next genotypes:
ee aa CrCr
ee Aa CrCr
ee AA CrCr
Cremello horses are definitely a work of art. The argumentation behind their unusual color is impressive and the outcome of their genetics is that of a noble-looking horse with impressive blue eyes. Below we have decided to explain and give the proper information about Cremello horses by answering some of the most asked questions about them. Keep reading!



1-Is cremello a horse breed or only a color?
Although many people think that Cremello is a horse breed it is only a color and can be seen in any breed. The color is created from the color heredity of the dam and sire. The most popular breeds in which this rare coloring happens are Quarter Horses, Shetland Ponies, Draft Horses, Saddlebreds, etc. It may seem unbelievable but the prime color of a Cremello is surprisingly red or chestnut. Two cream dilution genes on a chestnut horse (double diluted) are the ones who can create this unique color. It all depends on genetics and base colors.



2-Is the Cremello horse identical to the Perlino Horse?
Although they both resemble each other very much, a Perlino horse is different from the Cremello horse because the Perlino horse has a bay base color instead of a red or chestnut one. Perlino horses possess the cream-colored coat, but unlike Cremellos that have a white mane and tail, the Perlinos is a darker shade than their coat color. But they still have pink skin and blue eyes. Rather than breeding Palamino horses, Buckskin horses are utilized in the expectations of having a Perlino horse, appearing in a double dilute color of a bay horse.



3-Is the Cremello horse identical to the Albino Horse?
There are many people who call a Cremello horse an albino horse due to their similar appearance. Really, their blue eyes, pale coat, and pink noses make them look like they are albinos, but in fact, Cremello horses aren't Albino horses. Albinos are born white and don't have any pigment. Cremellos may look like they are white, but when you compare them to a white horse, it is evident that they are a cream color. Cremello baby horses are too born with blue eyes and of a darker color normally and soften to the light cream.



4- Were Cremello horses Ignored by AQHA?
This is actually very true! For a long time, a Cremello and Perlino Quarter Horse couldn't be registered by AQHA. With the assistance of Cremello and Perlino Educational Association, the AQHA retracted their regulation about enlisting Cremello horses in 2003. Nowadays, there are people all over the world who breed these horses only for their unique color.



5-Do cremello horses sunburn quickly and have problems with cancer due to their pink skin?
This is not true because there is a distinction between pinks. This means that the sunburn does not affect double dilutes. There is no scientific done on this matter but the owners of these horses state that their double dilutes sunburn just like any other horse, if at all.