A horse that kicks can be dangerous to deal with. Even if your horse is merely kicking at a biting fly, and you happen to get in the way, you can be hurt. Some horses develop a bad habit of kicking and are a menace on the ground and while you are riding or driving. But when it comes to miniature horses the kicking seems to be of no importance but just a funny thing.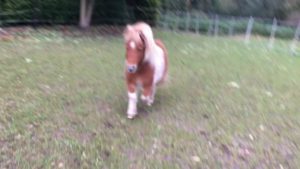 Miniature horses and ponies can be really mischievous but they can also be one of the cutest creatures on earth. Sometimes they go crazy and you can see them do things which never crossed your mind. What you are going to watch in this video is a cute, fat, happy little kicking and bouncing around in the pen. It is like when you want to have a tantrum at your parents but you're too small and dependent on them and all you can do is kicking and jumping in the air.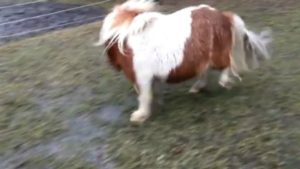 As a matter of fact, the miniature is playing and he is so happy to be in the field. He is a chubby little fellow but this proves that you can be chubby and have a lot of energy and flexibility. Maybe, this pony has great aspirations of being a big bad bronc. Everything might happen, who knows?! Watch this cute funny miniature horse playing and having fun.
✎ VERY VERY FUNNY – Ce poney est monté sur pile !!!╰▶ ORIGINAL VIDEO PAGE ® Emma & Tuffiehttps://www.facebook.com/EmmaTuffie/

Posted by Horses-Videos on Wednesday, February 24, 2016