Let's talk about some fun in the sun. There is an extreme sport called horse-surfing, which requires two people, a horse, water and wake-board. Horseboarding is the modern version of chariot racing that promises to pump extreme hearts and classic horse lovers. It might look easy from the outside, but it is a quite difficult challenge and not everyone could do it.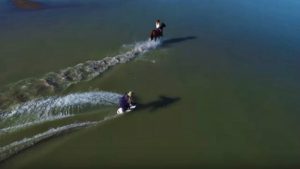 If you are afraid of speed, than this is not for you. Indeed there exist rules, for the protection of all those included such as maximum length of 250 meters for the course, four disciplines, safety procedures, video analysis, judgment criteria, etc. This exciting sport is all about water and the power of the horse, were all those who are participating can combine their passion of wake-boarding and that of horses into an extraordinary challenge that includes balance and courage. Surfers can do all types of moves and tricks just like in the wake-boarding, and one of the hardest things is to take off.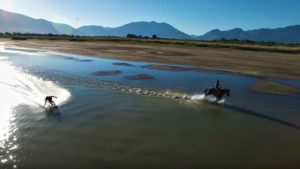 This amazing video shows how it is to surf behind horses and boats with one of the world's best skimboarders. Watch the video of this sport in action and share your opinions with us in the comments. Are you amused as much as we are?