It seems that age is just a number for Queen Elizabeth of the United Kingdom, who at 93, was spotted enjoying a horseback ride at Windsor Castle on 11th November, a Monday morning. The queen was seen accompanied by Head Groom Terry Pendry. He is the person responsible to take care of the queen's horses. She looked very fashionable wearing a long blue navy coat, a white headscarf, and round vintage sunglasses.
During the weekend, queen Elizabeth along with Megan Markle and other members of the royal family attended the Festival of Remembrance Service on Sunday to honor all the serving war heroes who participated in the First and Second World War.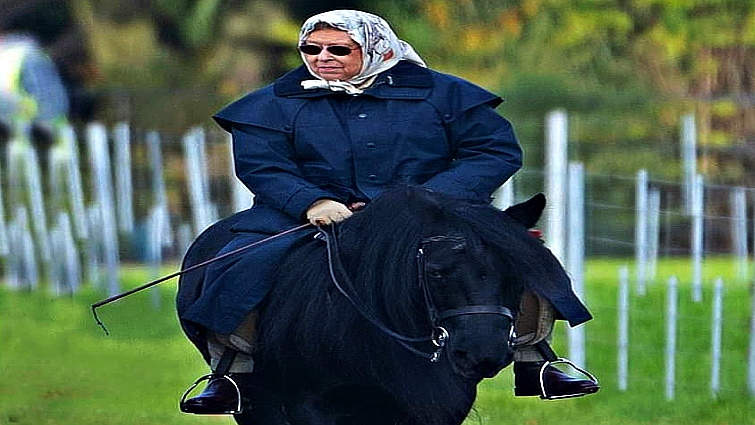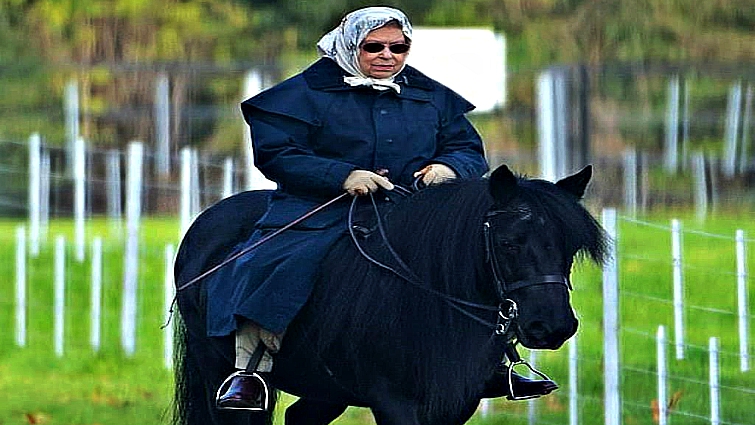 Queen Elizabeth was photographed shedding a tear during the emotional ceremony, who for the third year it was led by the Prince of Wales who was given the responsibility to lay the first wreath of red poppies on the Cenotaph in Whitehall, after a long tradition of Queen Elizabeth leading the country who unfortunately stopped in 2016.

Queen Elizabeth has been riding horses for nine decades and has incredible knowledge and passion for racehorses and all horses in general. Let's take a deeper look inside Elizabeth's equestrian life. The Queen has loved horses since she was 4 years old when she was given her first Shetland Pony named Penny. She started riding her pony when she was six and by the age of 18, she was an accomplished rider.

She has never stopped riding for pleasure ever since and her love for horses only grew stronger.  Queen Elizabeth has attended a lot of different events and ceremonies on horseback from her first appearance as a Princess in 1947 where she rode a bay police horse named Tommy and throughout different occasions including that time, she rode a chestnut horse named Winston on her father's place King George VI. Queen Elizabeth's favorite horse is thought to be a black mare named Burmese, who she rode for eighteen years straight. There is also a famous statue of her favorite horse Burmese on the grounds of the  Saskatchewan Legislative Building in Regina.

Elizabeth has inherited thoroughbred horses used for racing by her father King George VI and her great grandfather King Edward VII and her registered racing silk colors, as worn by the jockeys riding her horses are still the same ones her father and great grandfather used. Here is a shortlist of the most famous horses Elizabeth has owned:

1-Monaveen, a steeplechaser who was unfortunately killed during a race
2-Feola, a mare Elizabeth inherited from her father and was used for breeding operations at Royal Stud.
3- Aureole, the grandson of Feola who finished second in the Derby.
4-Carlton House who came as a present from Sheikh Mohammed al Maktoum
5-Dunfermline, who won two important races during the queen's silver jubilee in 1977.
6- Estimate, a filly who had finally given the opportunity to the Queen to win the Gold Cup win at Royal Ascot in 2013. This was the first time a reigning monarch had won the race in its 207 year history!

Queen Elizabeth is thought to be the longest standing racehorses breeder and owner in the world. She is the patron of the Thoroughbred Breeders' Association and visits her racehorses regularly from the moment they are born throughout their whole life. Royal Stud in the Sandringham Estate in Norfolk, England is the place where her horses are foaled.

In 2015 Queen Elizabeth was presented with the International Equestrian Federation (FEI) Lifetime Achievement Award because she has inspired millions of equestrian followers all around the world. Elizabeth was even the subject of a documentary titled  The Queen's Race Horses: a Private View which was narrated by her.

In 2013, Clare Balding, a broadcaster and journalist presented the BBC Documentary: The Queen: a Passion for Horses, as part of her 60th-anniversary celebrations. There isn't an exact number of how many horses the Queen owns but in 2017 her horses won 20 races earning this way more than $500,000 in just that year alone. Her racehorses are thought to have earned over $8 million throughout her entire life.
Even after so many decades, the Queen's interest has remained the same, making her one of the most powerful figures in the equestrian world. Her deep passion for horses inspires us all to dedicate to something we are very passioned about. She is a true example for every equestrian and we are very proud of the contribution that Queen Elizabeth has given to the horse world.