Horses, burros, mules, goats and sheep call Horse Haven home. The animals on these scenic pastures have gone to Best Friends because they were abused, neglected, or simply because they became old, injured or unrideable and their families could no longer afford to keep them. At Horse Haven, the animals have access to outstanding medical and farrier care. They benefit from Natural Parelli Horsemanship.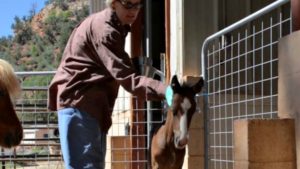 They get good food, room to roam, love and attention, and a beautiful canyon to call their home as they heal both physically and emotionally. The horses and other pasture friends at Best Friends' Horse Haven have had some extraordinary stories and journeys. Many have special needs, but their time at the Sanctuary has helped them heal and regain their confidence and calmness. Spending time with these horses is a real treat, both for visitors and the animals themselves. Such was the case with Prince, a precious little foal who was rejected by his mum at birth and went on to be a resident at Horse Haven.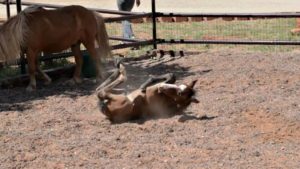 He had so much to learn and he had some great and considerate teachers to take care of him. This adorable foal has a lot of spunk and energy and the whole sanctuary is in love with him as they do their best to help him socialize with other horse and also get the nurturing he deserves. I just love watching him run around and playing having no care in the world. Watch and enjoy the video of Prince!
Meet Prince, our newest arrival at Best Friends Animal Society – Horse Haven! This precious little foal has much to learn, but thankfully, he has some great teachers to show him the ropes. Follow his journey and SHARE to help other animals like Prince: bit.ly/MeetPrinceFB. abigail

Posted by Best Friends Animal Society on Wednesday, July 13, 2016