Foals are so playful and full of energy that they don't stop a moment when they are let out of the barn into the pasture. Sometimes, even when they are in the pen they can't stop playing and prancing around. There are times when they find themselves in really embarrassing situations as they get too excited about something resulting in hilarious actions.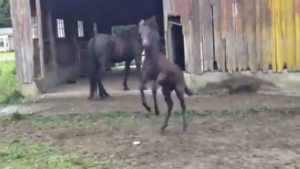 What you are going to watch in this video is an overly-excited dancing mule joyfully prancing and jumping around. The mule seems to be enjoying herself so much as she doesn't stop but goes on dancing in circles when she accidentally slips on the mud and falls to the ground. She didn't expect this and at first she is a little bit startled by what happened but this incident doesn't stop her from doing what she wants.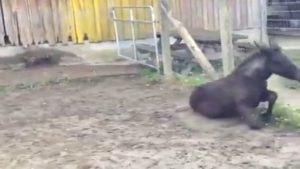 She knows that if you don't fail a few times, that isn't call learning and she doesn't let this tiny mishap discourage her but she quickly makes a recovery and goes on moving those happy feet and dancing around in her playpen. As a matter of fact, this is one of the joys of being a kid, you do what you want no matter what. Watch this mule enjoying her time in the playpen!
Un poulain qui découvre la boue et la glissade

✔ Un poulain qui découvre la boue et la glissade !✒ Participez à notre cagnotte solidaire "Du foin pour les pinpins"https://www.leetchi.com/c/association-de-association-la-reserve╰▶ ORIGINAL VIDEO PAGE ® Copyright Rumblehttps://www.facebook.com/rumblevideo/

Posted by Horses-Videos on Saturday, November 12, 2016