They say that when you're in love, your heart can pound like a herd of wild, galloping horses tearing across the plains. But for one couple, their wedding day really did shake the ground beneath them. Bride and groom Andrea and Eoin held their stylishly rustic wedding at the Sundance Guest Ranch in Ashcroft, British Columbia, amid the rolling blue mountains and under an endless sky. Though the couple themselves come from Ireland, they had both lived and worked on the ranch, and they loved it so much that they decided to get married there.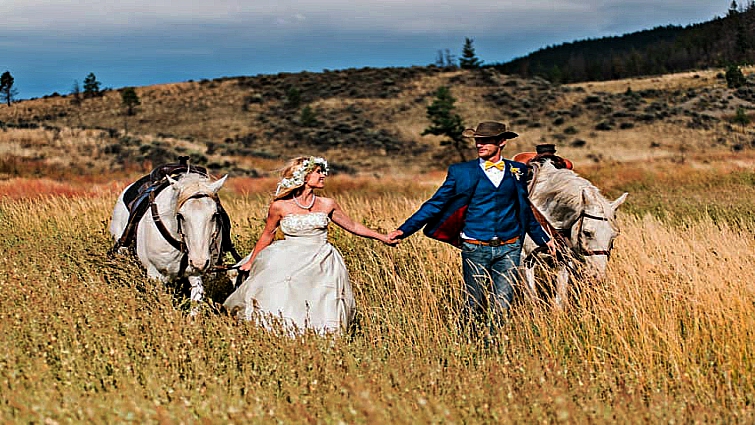 Like many people, the couple especially loved working with the horses and formed special bonds with the graceful animals. They also weren't the only couple to have some equine guests at their wedding — one couple even invited their horse to share in their first dance! But Andrea and Eoin's wedding photographers, Jelger and Tanja, managed to capture the heart-pounding rush that comes with a wedding in a truly spectacular photo that captures the couple's love of the setting, the animals, and of course, each other… Andrea and Eoin, the bride and groom, came from Ireland to get married on the Sundance Guest Ranch, where they'd lived, worked, and fallen in love.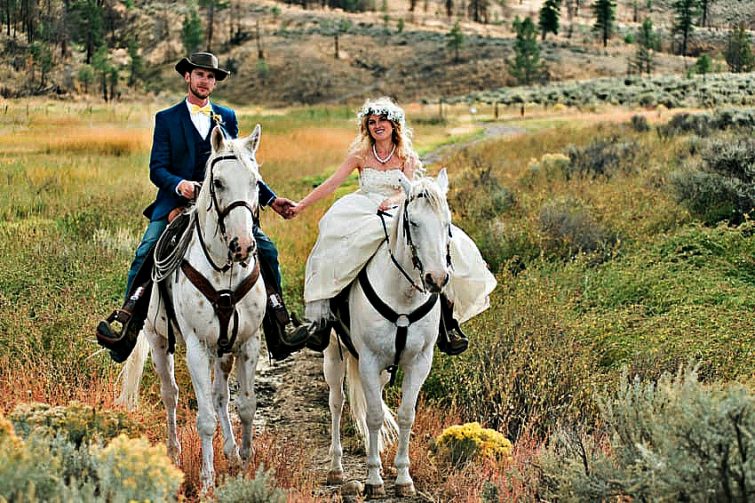 "They both shared a really special bond with… the ranch, as well as their favorite horses," photographers Jelger and Tanja said. "Andrea even rode down the aisle on her horse!" The wedding had a rustic, country charm to it that reflected the couple's love for the region's sweeping landscapes, big open skies, and tradition of ranching and working the land. And the day was perfect, too, full of dramatic blue horizons and glowing golden fields. Andrea and Eoin's photographers, Jelger and Tanja, are also a married couple and specialize in offbeat, tradition-bucking weddings for adventurous couples.

And while a romantic gallop through the open range makes for a great photo, the best was yet to come. As the sun began to sink, the real magic happened. Every evening, the ranch's horses are let out to roam in the fields, and all run out together. And what could be a better photo op? So at the exact right moment, the photographers and a videographer stood with their backs to a herd of oncoming horses to snap this perfect shot, with the horses kicking up wind and dust into a beautiful whirlwind. What a wonderful video.