Different animal species have the incredible ability to befriend one another, despite what we think nature dictates. There have been many unusual and unexpected interspecies friendships. Even ferocious carnivores have found a way to get along with other predators, and even their prey.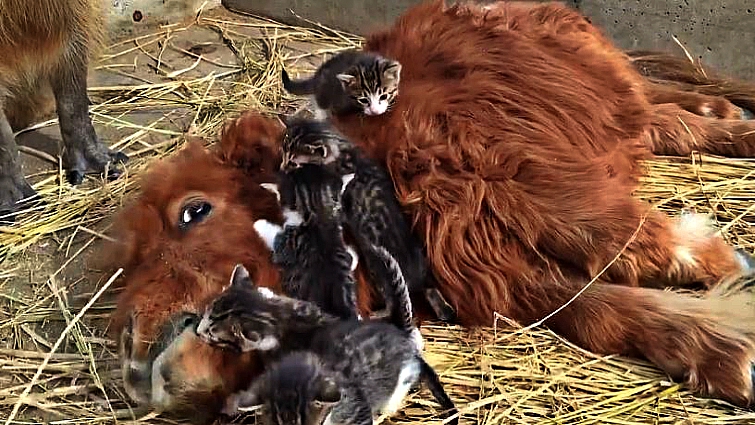 This goat was given to a tiger as food, but it seems like the two took a liking to one another and decided to live together! Not unlike them, a tiger, bear, and a lion became best buds after spending the past 15 years together. Even gentle creatures big and small can find friends of other species, and we love seeing them together as one happy family!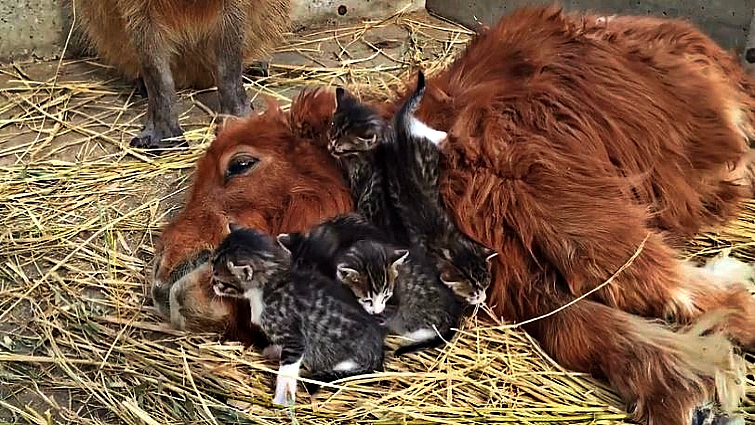 It's not unusual to see curious babies like the kittens in this clip adorably pester a fluffy mini horse. The five little ones are sprawled over the horse, who doesn't seem to mind it. But in the upper left corner, you see a strange pair of feet. When the camera pans up, you see who their guardian is. The exotic creature — a capybara — is no less cute than the others!

The capybara stands there, keeping watch over his friends. A gentle creature who can grow to be more than four feet in length, the capybara is considered to be the world's largest living rodent, though it is a close cousin of the guinea pig. And it loves being petted! Watch the clip to see the happy animal family. This will give you all the positive energy you need for today