It's always exciting to see friendships between two different species. For this bulldog and her horse best friend, a casual walk can turn into a day full of fun. In the video below, the tiny baby bulldog finds a thick green rope hanging from a brown horse's harness. Then, she takes an opportunity and runs with it. The puppy takes the green rope between her teeth and starts walking.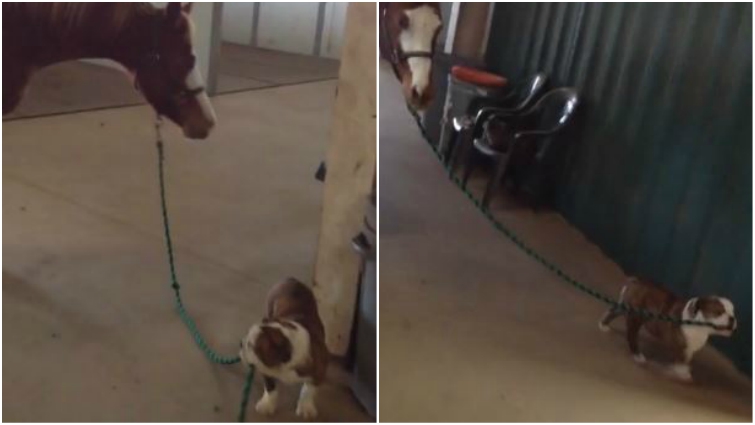 Eventually, her horse best friend realizes she is trying to guide him for a relaxing walk and he decides to go along with her silliness. The two of them slowly make their way down a hallway in the horse's stable as "Ours" by Taylor Swift plays in the background.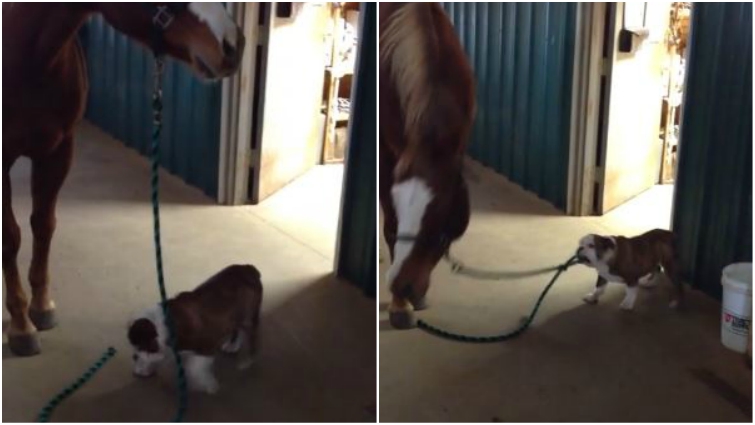 The baby bulldog is excited to lead the way, pulling her friend as she goes. Soon, they approach an open door, and the puppy runs inside with the rope. Unfortunately, her horse friend keeps walking in the same direction and doesn't even look towards the room. Perhaps he's letting her have one more chance to be his walker. She pops back outside of the room and snatches the rope one more time.

Then, with a few very strong pulls, she guides her horse friend into the glowing room. To see this baby bulldog and horse's adorable stroll, check out the video below. If you really liked the video, make sure to share it will your friends as well and drop a comment on the comment section. If you do have similar videos as well, make sure to share it with us.