Do you remember the first day when you bought a horse? The reason why I am saying that is because your age and the horse's age can say a lot about how the first contact that you had with each other was. If you got a middle aged horse then it is common sense that you will spend way less time with it compared to getting it when it is a young foal.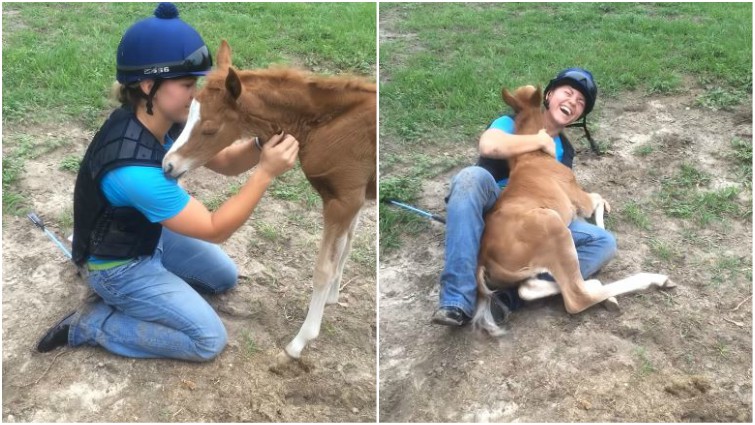 On the other hand, getting used to horses since you are at a very young age is somehow easier compared to when you grow up. No matter what, if the horse-owner duo is meant to be, it will for sure be. For almost everyone here, horses have a key impact on their lives not only for the time spent together but for all those happy and sad moments that made such relationships stronger than ever.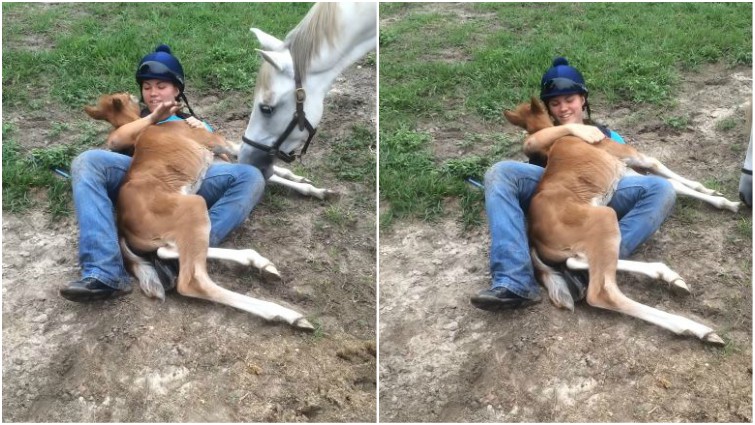 It is difficult to explain unless you live it. Since we are all here, it means that this is definitely the life for us. Just imagine spending a long time far away from your horses. I think that at this point it seems really difficult to happen. Especially when your horse constantly asks you to stay and shows all its love towards you so you would give them all the attention that they are asking for.

This beautiful baby foal is one of those horses. In the heartwarming video, the woman in Florida on her knees is scratching the foal's neck and playing with her. Feeling all the love, the little horse decided it was time for cuddles! The foal gently pushes Bayne over before resting comfortably on top of her. Bayne can barely contain her laughter.

Then, the pair rolled around and played like kids. "This is the best day of my life," Bayne declares in the one-minute video she originally posted on her Facebook page. The video became viral and a lot of people would be like 'I want to be in her place right now'. Well, I would love too as this moment is just so precious and when you get it, you don't waste it. Please watch it and let us know what you think about it.