Good news for all the equestrians! We just found the perfect place where no cars are allowed, only horses! Love Valley looks like just like any other small mountain towns in North Carolina but you won't find another place like Love Valley anywhere else – it's a Western-themed town where no cars are allowed, only horses – so if you go and visit it you have to park outside the town and walk-in.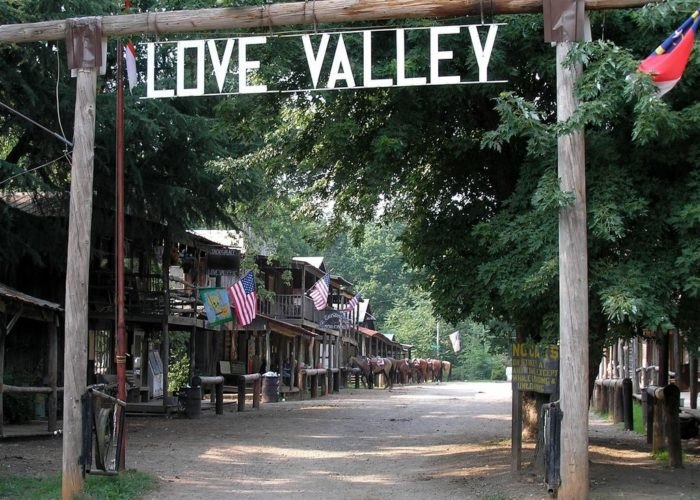 If you look upon the internet, you will be surprised that most of the roads in Love Valley are simply called trails, instead of roads, or even streets. But there's a great reason behind it: It's because this small picturesque town in the Brushy Mountains of North Carolina simply doesn't allow cars.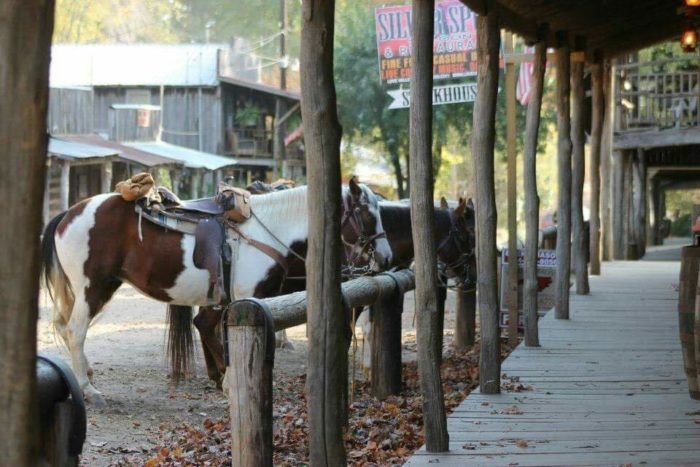 The town was founded beginning in 1954 by one man who merged two dreams when he put the tiny town together: He aspired to live in a Christian community and he also aspired to be a cowboy. This man was named Andy Barker and by the age of 29 he quit a profitable general contracting job in Charlotte just to move to the mountains, so he could fulfill the dream he had since he was a child,  wanting to live in a western town since he was a boy. His tiny town of Love Valley wasn't built with future tourists in mind, but the oddity of the town surely invites them all to visit it even nowadays.



Barker purchased a property in the Brushy Mountains in Iredell County near Statesville and transferred his wife, 6-year-old daughter and 2-year-old son into a cabin, so they could live there together with him. At the start, Barker brought along with him some construction partners who helped build a church named Love Valley Presbyterian Church, a platform for shows and rodeos, then lines of business buildings on the town's principal street, there is even a post office. The church still remains up on the hill overlooking the town. By 1963, when the town was consolidated and Barker's father,  J.A. Barker was named the first mayor, the town's central street (also known as Henry Martin Trail) had long taken shape.



In 1965, after his father had served for two years as a mayor, Andy Barker was elected mayor and worked for 48 years until his retirement. Barker's Utopia of Love Valley had just one principal rule: No cars allowed. Unfortunately, Andy Barker passed away in 2011, but the town still remains car-free. The 2016 census estimated that the population of Love Valley was only 104 residents. Below we are listing some of the most impressive events in Love Valley's history: In 1970, the Allman Brothers headlined a rock festival that attracted about 10000 people to the arena.



In 1988, resident Joe Ponder, a leather manufacturer, was named by Guinness World Records as having the world's strongest teeth. Ponder later starred in Ripley's Believe It or Not and arrived on the David Letterman Show. In 1994, Barker was enlisted into the Mayors Hall of Fame. The town has been the setting of a few short films and indie movies. After reading all the needed information to create a background for this town, I know you are all wondering: What's life inside this tiny town in North Carolina without cars? Firstly, to clear out all the speculations, many residents do have cars, but there are many areas where they can't drive them.



If you lack something from the store or just want to grab a meal with your friends from the General Store and Cafe, you have to be prepared to walk or saddle up the horse. No cars are permitted on the central street; only horses, and of course,  wagons.  The residents are accustomed to the laws and follow suit. It is up to you if you want to rent a horse to ride within the town, but if you're going to Love Valley as a traveler, you can get away with dropping your car outside the invisible barriers in a property up the road close to the retail and other businesses.



It's now known that Love Valley's residents and retailers love pleasing visitors. The town has a general store, a cafe, a local bar, a gift shop with ice cream, a feed store, a hardware store, a saloon, and of course, a tack store. Each year, Love Valley Arena is home to a variety of rodeos and horse events that are open to the public, and many visitors pick this opportunity to visit the cowboy town. It's a "must go" place for all the equestrians because it is considered as one of the most popular gathering spots for horse-lovers and horseback riding.