We have all had our problems with riding as we have been thrown off from the horse several times but that hasn't stopped us from doing what we love. We have tried and tried until we have made it even though we might have experienced unpleasant moments while on the back of a horse. What you are going to watch is a hilarious video of a horse who throws a temper tantrum during a parade and the rider who tries to remain all calm during this unpredictable action.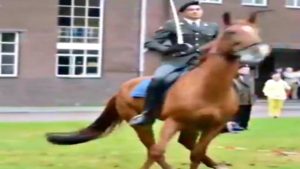 There are three reasons you should never blame your horse. You should have ridden him better, or you should have trained him better, or you should have left him at home. The parade was on its peak when all of a sudden the horse started acting strangely throwing a temper tantrum. The rider saw it coming but wanted to maintain his posture and not letting go off the sword he was holding in his hands tried to stop the horse but all his efforts were in vain. The horse then bolts and he ends up hitting a branch of a tree. Fortunately, no one was hurt during this accident but while watching the video we observe that the rider was inexperienced. As soon as the horse started acting up out of nervousness the rider got nervous, too.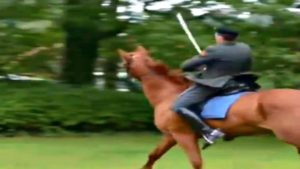 He clamped his legs on, which to a horse means "go", and at the same time he pulled on the reins, which to a horse means "stop". When you put these two aids together the horse has nowhere to go but up, as in rearing. The rider is more scared and clamps even harder. The horse obligingly takes off, and as he goes you can see the riders spurs dug in, unintentionally asking for "more go". Watch the video and share your opinions with us!