Equestrian competitions are fierce; people come from all over with horses that they've been training with for months on end, years in some cases. Needless to say, the performances are generally extraordinary. But even among all those spectacular performances, we've never seen one like this! When this horse and his rider are preparing to perform, it doesn't seem like anything too special.
But just wait until the music comes on! Besides the fact that the horse and rider are surrounded five people all wearing matching outfits (jeans, cowboy boots, collared shirts, and cowboy hats), this seemed like the beginning of a pretty average routine.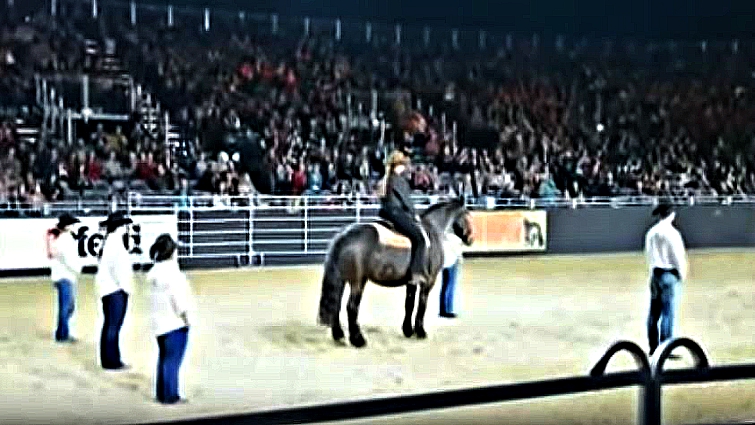 Honestly, we weren't expecting much to happen. Then the music comes on and we all instantly recognize the melody – it's Billy Ray Cyrus' classic country hit, "Achy, Breaky Heart." The crowd giggles as the opening chords play, but when it breaks into the first verse, the entire crowd goes from giggles to yells. The crowd around the horse start to line dance to the classic tune…and so does the horse! In the middle of the line dancers, the horse and his rider are flawlessly joining in with the dance, and it is simultaneously the funniest and most impressive thing we have ever seen.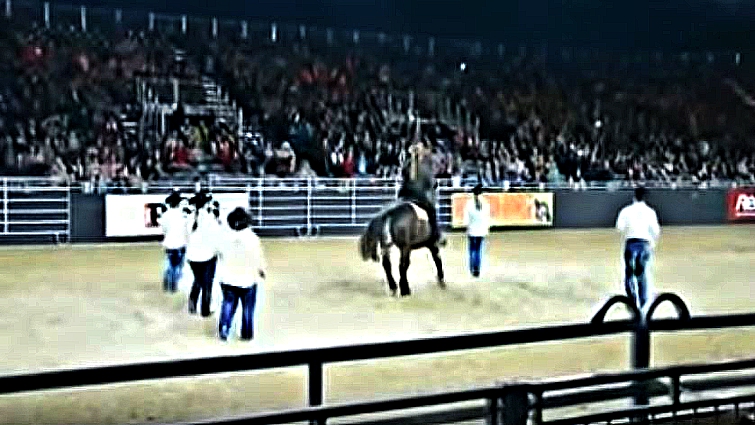 The horse doesn't miss a beat, even doing the different turns as effortlessly as the dancers around him. Obviously, the crowd loves it, and they're cracking up through the entire performance, which is almost the entire song.
We're not sure how the awards shook out for this particular competition, but we hope this talented and funny horse came in the first place! Not only was this a fun idea, but it obviously shows the control the horse has, and how synced up this horse and rider duo are.

As goofy as this performance seemed, it was also subtly impressive through and through. Honestly, this was probably a welcome relief for the crowd and judges, too. As amazing as equestrian competitions can be, they tend to get a bit repetitive.
All the horses and riders are doing similar routines, showing off the same qualities of speed and agility. This performance showed those qualities but in a fun and fresh way. We hope that creativity helped them when it came to judging! What do you think of this fun horse routine? Share your thoughts on this hilarious performance in the comments section below.