Horses are so cool that I'd bet people who don't even identify as horse fans think they're great. Between their long, pretty manes, their big bodies, and their graceful gallops, there's a lot to like! Other animals also seem to recognize their magnetism. We've seen plenty of unlikely animal friendships that involve horses. They are quick to make friends with fellow farm animals, obviously.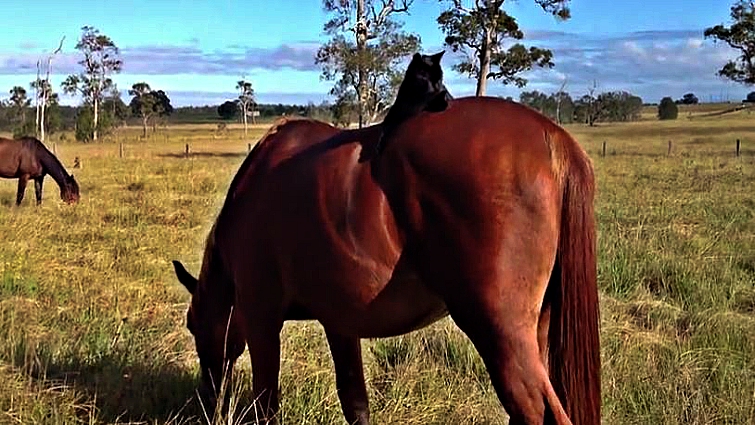 Other furry friends can't help but flock to them, too — just like this adorable dog. And according to the clip below, they're also able to find a friend in even the most famously fickle of animals: cats. The clip begins with two horses grazing in an open field, but one of them happens to have a furry black cat on his back! Even though he's super-high off the ground, the little guy couldn't be more content up there.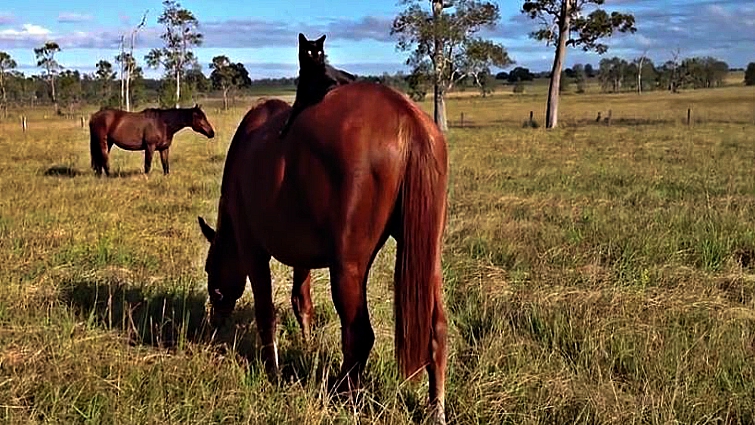 He even attempts to groom himself on his high perch. The horse doesn't seem bothered, either. As the two enjoy the sunshine together, they don't appear tense or uncomfortable. This is a friendship that looks like it will last. The two don't have anything in common, but they still seem to love each other's company! Check out the entire clip below.

The pretty horse and the blissful kitty are bound to put a smile on your face. And if you enjoy watching this video, please make sure to drop a comment or share it with your friends. Does your horse has special friends also, like the one in this video? If you have videos of them together, make sure to show it in the comment section.