Sometimes, animals and pets escape their homes and get stuck in horrible scenarios. Dogs get lost, cats jump into the road and startle drivers, and horses sometimes, somehow, get trapped in a bad spot. And that horse situation is exactly what happened in Lakeland recently.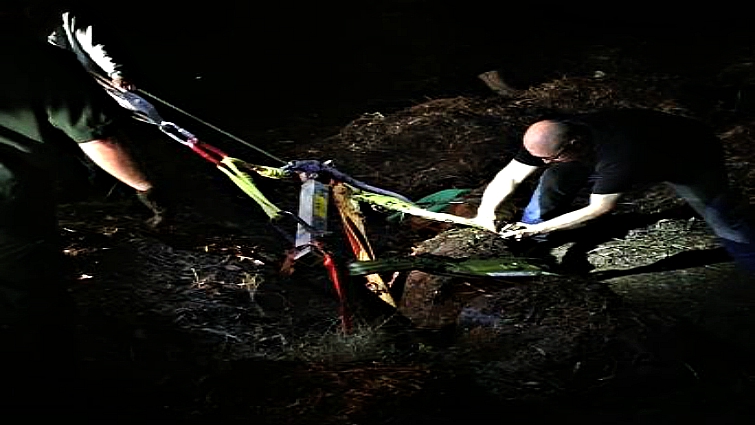 The Polk County sheriffs, fire rescue crews, department of agriculture, and some local veterinarians all came together to try to get a 20-year-old horse out of a very sticky situation. The elderly horse must have gotten out and gone wandering when he found himself sliding into mucky water. He was stuck six feet deep, and he couldn't escape because of all the mud, water, and mulch bringing him down.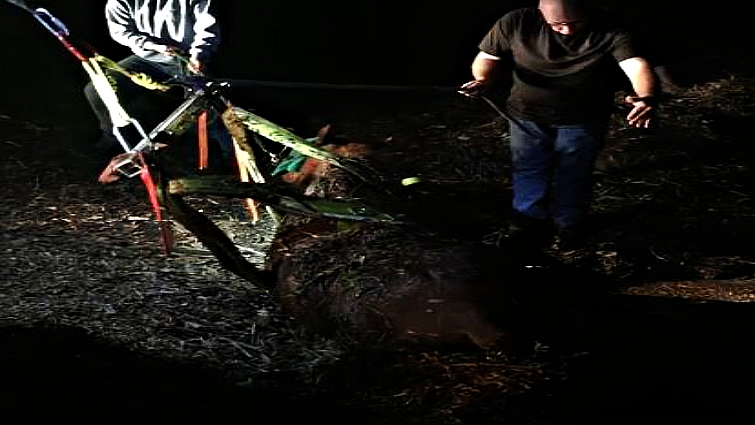 The muddy mixture was like quicksand. Thankfully, people arrived on the scene at 3 p.m. Watching the video, you can see how late it is when they finally get the horse into harnesses and out of the trap. All of these people took time out of their lives to help this stranded horse out, and they completed the task without harming him!

They then nurtured him with blankets and made sure he was able to get back onto his feet, after two and a half hours in the water. Although this situation is heartbreaking, the outcome of the rescue is worth watching! Such an amazing rescue. Shout out to this amazing rescue team who did an incredible job.
Shortly after 3:00 pm, on Saturday, December 3, 2016, the Polk County Sheriff's Office received a call about a horse trapped in a pond near Sleepy Hill Road in Lakeland.When deputies arrived they found the 20-year-old mare Quarter horse stuck in approximately six feet of water. The surrounding area of the pond had decomposing wood much and muck making it difficult for the horse to find solid ground. Members of the Agriculture Unit were requested and arrived with the Florida Department of Agriculture's SART (State Agriculture Rescue Team) Equipment Trailer and began an emergency rescue. (Information about the SART team and trailer are below–the Polk County Sheriff's Office Agriculture Unit is the designated SART team coordinator for this area.)Only the head and small a portion of the horse's back were visible; the rest of the horse's body was submerged. The A-Frame rescue system was assembled and deployed. Polk County Fire Rescue Squad 591 and Fire Engine 111 responded to the scene assisting with the rope and pulley system used to extract the horse from the pond. Volunteer members of the PCSO Mounted Search and Rescue Team, or MSART, and two veterinarians also responded to assist. The horse was lifted out of the water using the A-Frame rescue system and placed on the dry ground beside the hole. The horse was dried with towels and with assistance, was able to stand after being in the water for almost 2.5 hours. The horse was then covered with a horse blanket and placed in a covered barn with hay for the evening. The horse was evaluated by a veterinarian and was in stable condition after the rescue effort. *The PCSO's Agriculture Crimes deputies have received large animal rescue training provided by the State Agriculture Response Team, or SART, through Florida's Department of Agriculture and Consumer Services in conjunction with the University of Florida Institute of Food and Agriculture Sciences, UF College of Veterinary Medicine, and the United State Department of Agriculture. In addition to training, the PCSO Support Services Section is home to the Florida State Agricultural Response Team (SART) Region 4 Large Animal Technical Rescue trailer. This trailer covers Region 4, specifically Polk, Sumter, Citrus, Hernando, Pasco, Hillsborough, Pinellas Counties, and is deployment ready 24/7. The SART Rescue trailer contains an array of rescue equipment to include the rope and A-Frame lifting systems, as well as personnel safety equipment, assorted ropes, webbing, carabineers, and pulleys for improvised rope systems. Deputies have access to rescue glides for livestock, rescue slings/harnesses for livestock and small animals, and both a Nikopoulos loop and mud lances for mud rescues.

Posted by Polk County Sheriff's Office on Tuesday, December 6, 2016