We are in the middle of December and although there are a few days left until the official winter comes, the snow has still covered a lot of countries in the world and everyone is very excited about it, especially young children. As you all know, the thick snow makes the perfect conditions for skijoring, which is the favorite thing to do by a lot of horse people, probably the most entertaining activity for them.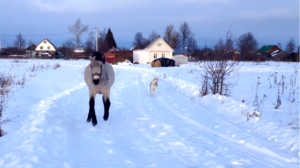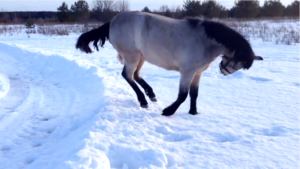 Skiing might be interesting, but only horse people understand that it is not nearly as amazing as skijoring. However, we are not the only ones excited about the snowy days and all the amazing winter activities. Apparently, this amazing duo in the video below loves nothing more than playing together in the snow. It seems like horses and dogs have a very special kind of friendship with each other. We haven't seen a pair that didn't make our hearts melt, and despite their differences in size, they love playing together. And when better to frolic than during the wintertime, in the snow?


Pals Chico and Loki look like they're having a blast, and who could forget the happy dog who likes to lead his friend around? It was only natural that Rita the horse found a canine friend too. Watch her chase Balu the dog around, and neither seems to get tired of their play. At first, it seems a little strange that the large, beautiful horse is chasing this pup around, almost galloping in the snow.


But then the roles reverse, and it's as if the two were playing a game of tag! It wouldn't be hard to conceive that the two best friends couldn't be happier at that very moment, chasing one another around. And we love watching them! But our favorite moment comes when Rita the horse comes to a stop. It looks like she was outrun by Balu, and you need to see her reaction to believe it!


The horse reacts with a little kick and head shake as if to acknowledge the victor. I am pretty sure that there are a lot of other animal pairs out there who are so excited about this season and can't keep themselves away from the snow, however, rarely can we find a duo like this one. If you have beautiful videos of animals like the one below, feel free to share them with our community.