There are a lot of people who want to be the center of attention at every moment. They will always try to find something on how to get everyone's attention, even if it can be embarrassing as well. On the other hand, there are people who like privacy more than anything and are the complete opposite of the first one. A great way to get attention is to stand above all the others and try to say something funny or even entertain the crowd in ways that only these people would think of.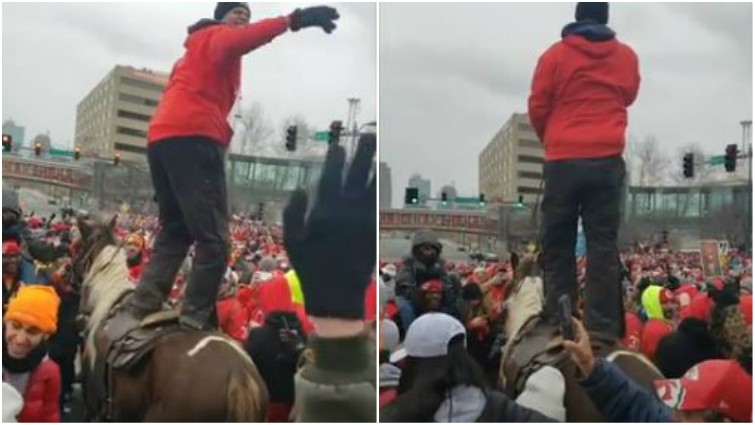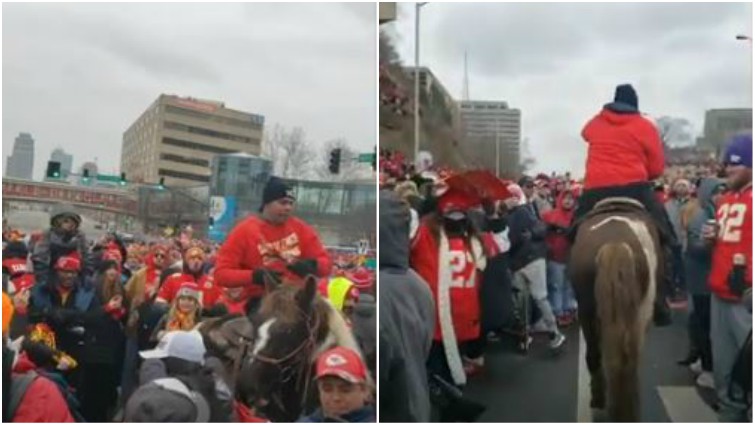 When it comes to horses, we have seen a lot of people who use them to get attention or even go crazy from time to time. I am pretty sure that you all remember the guy who entered a horse race by running toward the finish line with them. What about the lady who on the International Women's Day before a horse race took a horse from one of the contestants and started to run as fast as she could? Well, adding to this list are a lot of other people as well and one of them is the man in the video below.


This is the shocking moment a Super Bowl reveler was caught on camera standing on a horse during the Kansas City Chiefs' victory parade. The video, filmed by Jacob Davis near Union Station, shows the happy fan bobbing up and down on the pony's back, surrounded by a sea of red. At one point, he appears to nearly fall off the animal but ends up sitting back in the saddle, before eventually riding off.


Thousands of football fans gathered in downtown Kansas City to pay tribute to the Chiefs after they came from behind to beat the San Francisco 49ers in the Super Bowl in Miami, Florida. Well, among thousands of people that were there, you can tell that he got all their attention as everyone was looking and him after he was standing on his feet on top of the horse. What do you think about what he did? Is it right? Please let us know what you think.