Little Jim and Shadow are buddies and have fun playing together but this time little Jim is up to something else. Both of them are geldings but still, Jim wanted Shadow to give him some love. Shadow seems a little bit agitated but he knows Jim is its friend and does not do anything to hurt him.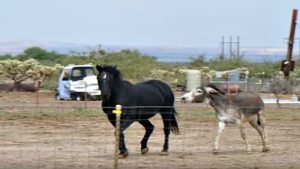 Shadow bucks gently to try to get his friend off and not do any damage to him. It is so funny and so sweet at the same time. Shadow is actually being a little nice by not giving Little Jim a full out buck and Shadow does not look to have the motivation to let that donkey have it because it is a gelding. This shows Shadow to be a nice horse because it does not kick Little Jim, it just tries to move away or to scare a little bit the donkey.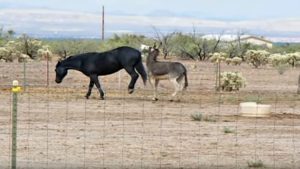 It looks like this conversation is going on:
Shadow: Dude, for the last time…I don't swing that way. You're not even my species!
Donkey: Come on and take some shots with me, bro.
Shadow is magnificent and Little Jim is cute to watch! This will surely bring a smile on your face. Watch and enjoy!