Saddling a horse for the first time can be a real struggle but Mounty Roberts, an expert trainer and horse whisperer, shows us how to do it gently. While tracking wild mustangs in Nevada as a boy, Monty observed a nonverbal communication between the horses, a silent language he would later call "Equus." Monty incorporates "Equus" into his nonviolent training approach showing us that the horse doesn't need violence to make him do or perform something but just acceptance and understanding.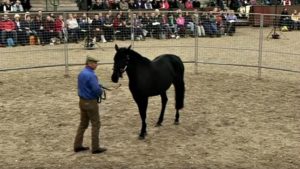 He developed a training approach called Join-Up in which he used a set of principles of the horse's inherent methods of communication and herd behavior. Everybody is amazed by the results as the horse is willing to collaborate and surpass the commands. Its performance flourishes to its full potential showing that there are no boundaries of obedience. These principles are valuable tools to understanding what motivates horse behavior and increasing effectiveness in any application. This handling technique still amazes me every time I see it and has to be the best method out there.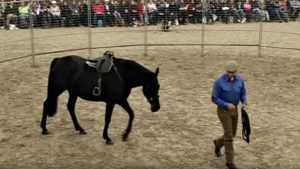 It proved invaluable when working with an untouchable pony I took on. It really worked and was brilliant to learn. In this video Monty puts a bridle, saddle and a rider on a horse for the first time and all this happens in 30 minutes but all is presented in a 6 minute video! This is a wonderful example of human-animal understanding. Watch how Monty does it without using pain or force!