The Peruvian Paso or Peruvian Horse is a breed of light saddle horse known for its smooth ride. It is distinguished by a natural, four-beat, lateral gait called the paso llano. This breed is protected by the Peruvian government and has been declared a Cultural Heritage of the Nation by the National Institute of Culture.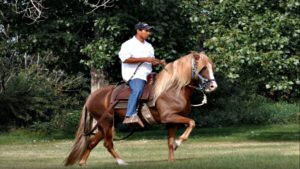 Due to the isolation suffered for about 400 years and the selection made by their breeders, this breed is very particular in their body proportions and an ambling gait or "paso llano" that is characteristic. It is typical of the northern Peruvian regions of the country from which it originated. The horse is medium-sized, usually standing between 14.1 to 15.2 hands tall, with an elegant yet powerful build. The Peruvian horse has a deep chest, heavy neck, and body with substance without any trace of being hound gutted in the flank area.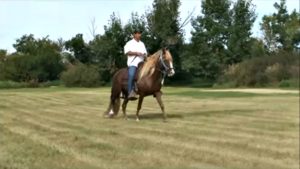 What you are going to watch in this video is CM Inca Roca Peruvian Paso Stallion who has won titles which include Canadian National Champion Jr. Stallion, PHAC High Point Jr. Stallion, multiple Best Gaited Horse of Show, Champion Breeding Stallion, and Champion Pleasure Stallion. In this video the horse is being ridden by trainer Jimmy Perales and combines gait, strength, and beauty in a unique package. Watch and enjoy the video of CM Inca Roca Paso stallion!