Taking an evening walk with a gorgeous horse is one of the most amazing things someone can do. Probably, both you and the horse will love every minute of that little outing! Not a day goes by that the owners of the horse in the video do not thank the good Lord above for their magnificent horse. According to his owners he has a heart of gold!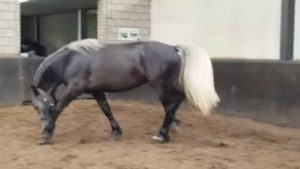 He's charismatic, funny, loving, athletic, and respectful. People that meet him are in awe because he's such a gentle giant who absolutely loves to show off! He's extremely powerful, yet he is always a perfect gentleman on the ground and under saddle. This gorgeous and stunning horse is playing, running, and prancing around the arena because he knows he looks good and, as a matter of fact, he really looks like a creature from fairyland.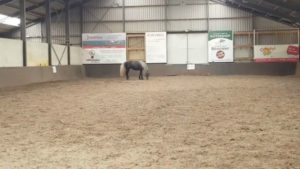 Some claim that he is a Friesian but I have never seen such a Friesian with gray hair and golden tail. His stature and build resembles that of a Friesian horse and the moves are similar, too. They call him 'Frison D'Ambene'. What do you think? Share your opinions with us!
✔ Quand tu sais que t'es beau ;)╰▶ ORIGINAL VIDEO PAGE ® Elevage Les Frisons D'ambenehttps://www.facebook.com/elevage.desfrisonsdambene

Posted by Passion Equestre on Thursday, September 13, 2018