Horses go through years of training just to master the skills needed for a certain competition. This is true about all horse sports competitions like dressage, showjumping and any other discipline. You can't really make a dressage horse jump as he isn't used to jumping but he is used to the fancy footwork.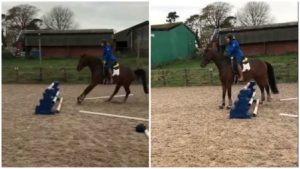 What you are going to watch in this video is a dressage horse who is pushed by the trainer and rider at the same time to make a jump over an obstacle but he wasn't sure what to make of it. He approached the obstacle slowly and when the rider gave him the command to jump he stopped midway through in confusion as he didn't know what to do. As he isn't used to jumping this smart horse came up with an alternative that baffled the rider.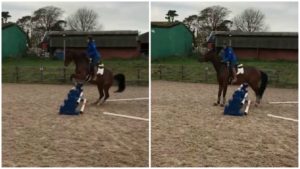 The horse surely did his best but it is trained to do other things and jumping isn't his strong point. Horses trained in other disciplines and who aren't familiar with jumping will never do that no matter how hard you try and push it to do that. Watch this funny video!