Whenever people see a big horse, they get scared and are afraid to go near them but as soon as they approach them, they understand that there is nothing to worry about because these majestic creatures are very friendly and kind. Today we have decided to show 5 of the biggest horse breeds in the world, who deserve to be mentioned not only due to their grand figure but also for their great personalities. Many people fall in love with them because of their loving and kind natures. They are all so devoted, gentle and caring. Take a look at the list below!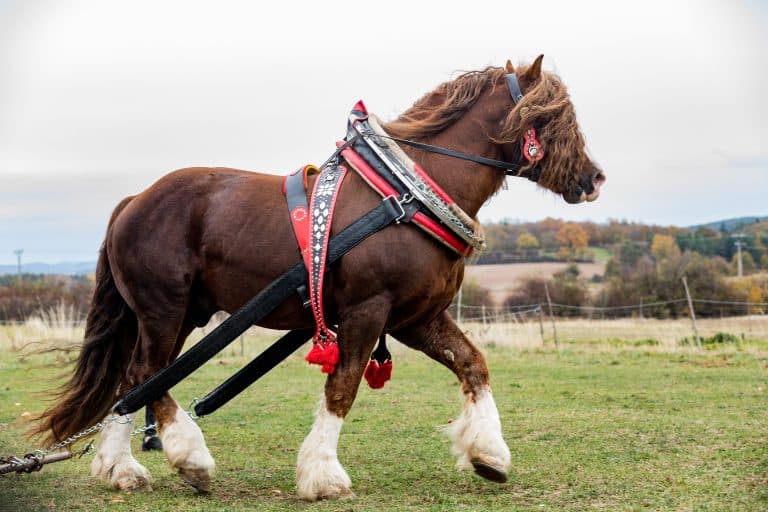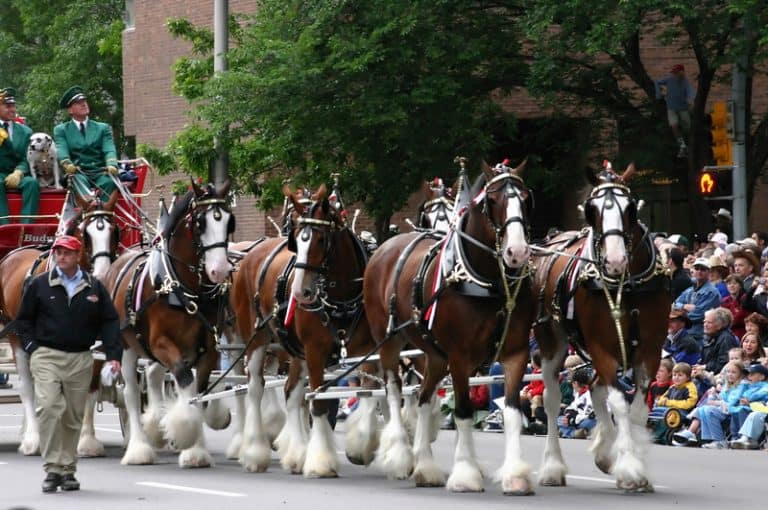 1.Percheron
The Percheron horse was first developed in the Perche province of France's Normandy region. There are various assumptions over the internet about this breed's origin that's why it is very challenging to come up with an absolute version. But we know for sure that the national breeding farm in France, Le Pin, still raises Percherons today, along with many other horse breeds of French origin. The Percheron stands amongst those horses who are the ideal combination of excellent physique and well behavior. They were initially a warhorse and then a strong draft horse and today's Percheron is both comfortable under saddle and in racings. Percherons are perceived to be more energetic than most of the other draft horses breed. They're appreciated for their powerful, noble attitude, along with their natural intelligence and eagerness to please. In addition, they are one of the few horses who have great stamina.



2.Clydesdale
The Clydesdale horse is one of the most amazing, disciplined and friendly breeds in the world. This breed has started from the farmhouses of Clydesdale, a county in Scotland. Every Clydesdale horse owner shows them off very boastfully and we can't blame them because everyone should be pleased and privileged to own such a beautiful breed. Clydesdales stand up to 18hh, and their most frequent color is bay. They are very clever and loving. The most eye-catching feature of Clydesdales is their white feathers.



3.Shire
I bet you all know and admire the beautiful Shire horse who is known all across the world for his grand stature and power, even holding the record for being the tallest horse in the world. They resemble a Clydesdale horse, because of their huge hooves and feathering on their legs. Despite their noble size, shire horses are normally very kind, willing, and enthusiastic to please. The most distinctive traits of the shire horse are its impressive height and absolute strength, features documented during the profuse history of this breed.  The breed also is recognized for its laid-back nature. A lot of Shire owners confirm that this horse doesn't spook quickly. That's because they were used as carrying soldiers in heavy armor into harsh, critical battle situations and they learned how to deal with them.



4.Belgian Draft
Belgian horses, as their name indicates come from the country of Belgium. Many people think that the Belgian horse is a descendant of the "The Great Horse," a horse from ancient times that brought many knights to battle. Belgians were shipped throughout Europe to help add build and durability to other horse breeds. Belgians are patient and understanding, measuring in at 1800 lbs to 2000 lbs and standing up to 17 hh, they are yet utilized as workhorses as well as for general riding. The Belgian Draft Horse was spread in America by three men who founded the Wabash Importing Company in Wabash, Indiana. They created the American Association of Importers and Breeders of Belgian Draft Horses in 1937.



5.Dutch Draft
Dutch Draft horses were first located in the Netherlands. They were reproduced from Belgian, Zeeland, and Ardennes horses to be large, powerful workhorses that could help in the farmlands. The Dutch Draft breed is very rare, and its numbers started to decrease after the need for the horses declined. The Royal Society for the Preservation of Dutch Draft Horse was founded in 1914 to help protect the breed. They also had the purpose to develop a bulky horse with a strong structure. Today this is the biggest of all the Dutch breeds. Sadly, like the other draft breeds, the arrival of industrialization has decreased their demand but there are still some dutch draft horse lovers all over Europe that still breed them. Just like all the other draft breeds, the Dutch Drafts are also very disciplined and docile. Standing up to 16hh, they have large bodies and the energy to work for hours.