"Sally's Story" is a story of one horse's journey from fear and darkness to love and trust – all made possible by the ceaseless devotion of a group of rescuers and supporters who refused to give up on her.  Sally is a 15-year-old registered Quarter Horse mare who came to Amazing Grace Equine Sanctuary (AGES) in December of 2016. She was pregnant and had narrowly avoided being shipped to slaughter.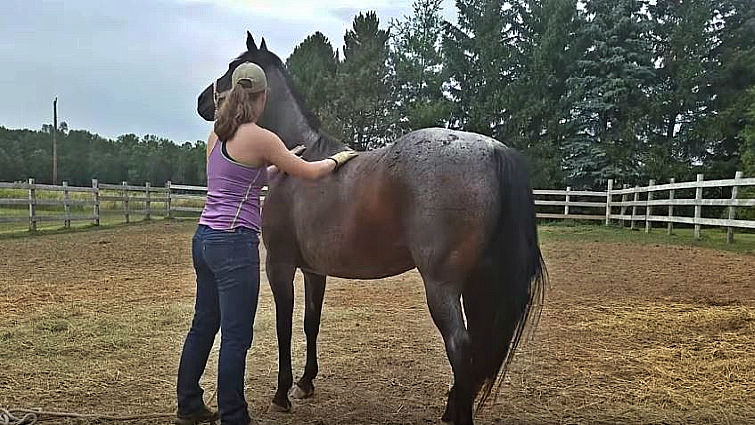 It quickly became apparent that she was extremely fearful of humans and had likely had few – if any – positive interactions with people. AGES cared for her and worked hard to make her feel safe and loved. In April 2017 she gave birth to a beautiful filly. Her baby was very friendly and after weaning, she was soon adopted. Unfortunately, Sally had made little progress and was still very defensive and fearful. She could not be caught, led, touched, or handled.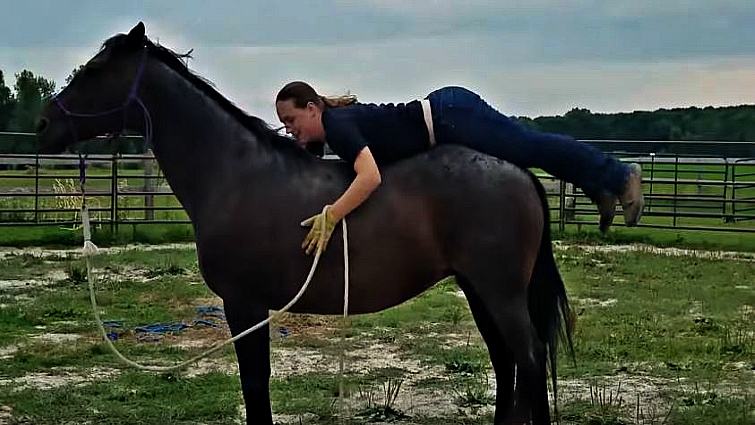 In July of 2018, Sally began a new chapter of her life by entering training with volunteer trainer Hannah Johnshoy. With patience and the unwavering support from the many wonderful people at AGES, she began to transform into the horse she was always meant to be. In September 2018, after nearly two years at AGES, Sally was adopted by a wonderful family and finally has a wonderful home of her own.

However, there are many more horses at AGES and other rescues across the country that still need help. Adopting a rescue horse like Sally not only saves that life, but it opens the door for rescues like AGES to take in more horses in desperate need of help. As Sally has proven, even horses who have been through significant trauma and neglect have an amazing potential to heal and go on to successful careers just like any other horse.