When Skye's mother, Ruby, was pregnant with him, no one could tell because she was so emaciated. The poor mare was rescued from a horse auction in Pennsylvania. Although she was just skin and bones, her beautiful, icy blue eyes caught the attention of her rescuer. The woman who rescued Ruby brought her to Thornbury Farm Stables. Penny Parker, manager of the barn where Ruby was now living, slowly began to rehabilitate her. This proved to be very difficult, however. Ruby had clearly been abused before she was rescued from the auction, and she didn't trust anyone to come near her. As time went on, Parker noticed Ruby's belly began to swell. Assuming she had worms, she called the local vet.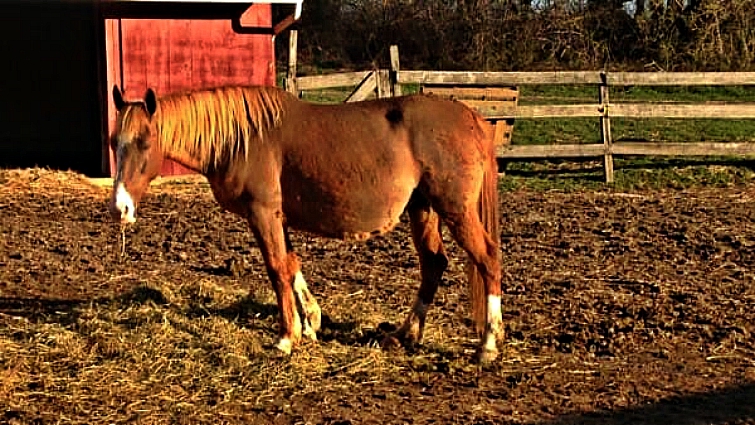 It turns out, Ruby was actually several months pregnant! On April 29, a lanky little foal named Skye was born. Everyone immediately fell in love with the adorable little horse, except for his mother. She wouldn't allow him to nurse and even turned violent toward the day-old foal. Turner knew she had to take action or Skye wouldn't survive. Scroll down to find out what happened to the little horse, and let us know what you think of Skye in the comments below! When Ruby first arrived at Thornbury Farm Stables in West Chester, PA, no one knew she was pregnant. As she began to gain some much-needed weight, however, her belly began to swell and it became clear that a baby was on the way.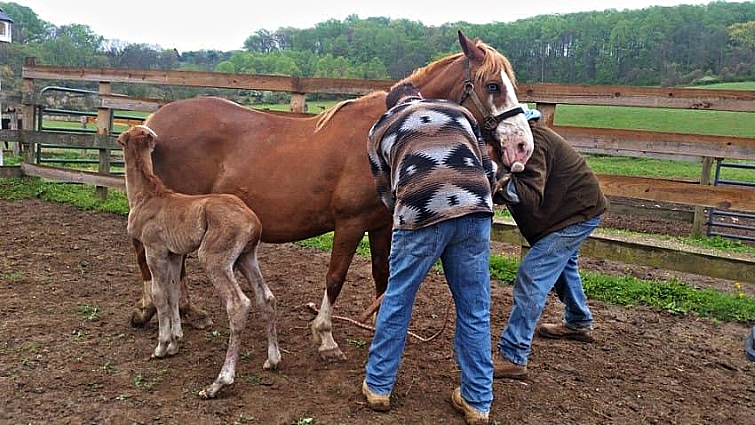 An adorable lanky foal was born and Penny Parker, barn manager at Thornbury Farm, named him Skye. Everyone fell in love with him immediately, except for the newborn's mother. No one is quite sure what Ruby went through before she was rescued from the auction, but Parker believes her violent reaction to Skye is due to PTSD. No matter how hard Parker tried, she couldn't get Ruby to allow her little foal to nurse. Even after sedating the mama horse, she continued to kick and push her newborn away. As the day drew to a close, the temperature began to drop. Parker and her boyfriend, Dave Manning, knew what they had to do. The couple brought the lonely foal back to their home and tucked him into a mattress on the floor.

Although the couple kept the foal on a tight feeding schedule, he simply wasn't getting the nutrients he would have otherwise gotten from nursing. Skye needed a blood transfusion to raise his colostrum levels. It was then that Parker realized, Skye needed a mother to take care of him. Lucy, a retired racehorse, came to the rescue right in time. Lucy already had experience acting as a surrogate for another foal that had been rejected by its mother. She and Skye bonded almost immediately. "They were in love," Parker told the Dodo. "She's lying next to him, standing over him while he sleeps. They're running around together, connected at the hip." Thanks to the endless love from his humans and his new, surrogate mama, Skye is sure to grow into a beautiful, strong horse.