Parents move such miraculous mountains for their children. When Instructables DIY-er DustandRust's daughter needed a place to store her riding gear after long rides out on her horse, he knew it was up to him to build her the storage bench of her dreams. Using all sorts of different upcycled materials, this DIY-er built the niftiest storage bench, designed specifically to suit his little girl's tastes. He outfitted this special bench with all sorts of cool surprises, including a hand-burned quote engraved on its front, as well as an automatically retractable, magnetic boot jack.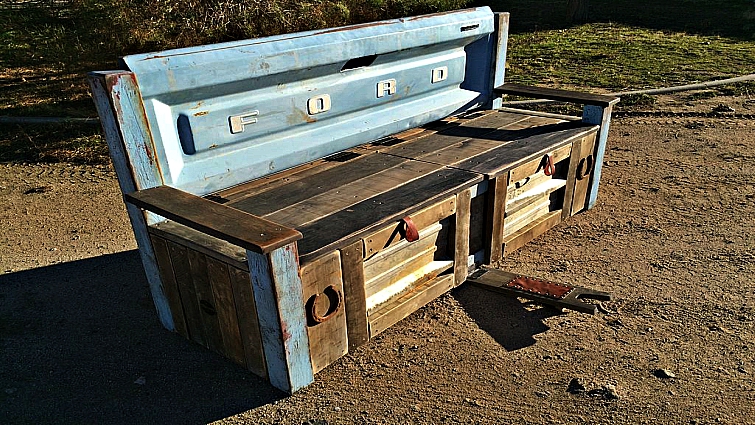 Thanks to this dad's upcycling skills, his daughter was gifted with a beautiful bench she'll likely cherish, indefinitely. Keep scrolling to find out how this dad used repurposed pallet wood, parts of a corrugated metal roof, and part of an old Ford tailgate to build his daughter the horse tack and boot storage bench of her dreams. Instructables DIY-er DustandRust's daughter loves horseback riding and Ford trucks. Awesome dad that this DIY-er is, he built her a one-of-a-kind gift, inspired by both of her passions.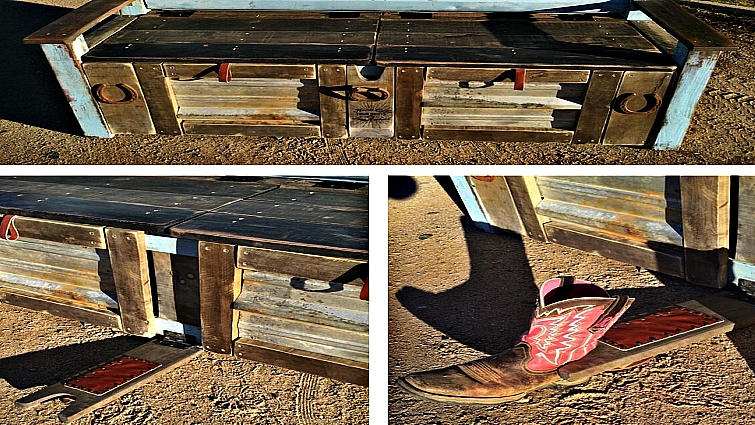 Using reclaimed pallet wood, corrugated metal roofing, and the centerpiece of an old Ford tailgate, he designed his daughter a one-of-a-kind horse boot and tack storage bench. Determined to make this bench unique to his daughter in every way possible, he engraved a beautiful saying onto the bench's front side. Additionally, this DIY-er chose to use this quote as adornment for the bench's custom boot jack. And, this is no ordinary boot jack. This DIY-er outfitted this bench's boot jack with internal magnets so that when not in use, it automatically returns to an upright and locked position.

No more would his daughter struggle to free herself of her boots after a long ride in the saddle. This DIY-er chose to use an upcycled Ford tailgate piece for the bench's seatback, as his daughter absolutely loves Ford trucks. To give this bench a weathered look, this DIY-er rubbed its surfaces with vinegar and steel wool. This technique layers and sands paint, while simultaneously oxidizing the wood. With this bench in her life, his daughter will now be able to house all of her riding gear in one easy-to-remember location.