When we transport horses we should make sure that they are transported safely and properly. We have seen many cases when horses were badly transported even suffering injuries. People are always creative when it comes to finding solutions to a problem and the man in the video is a creative one. He is a rancher from Idaho and shows us something really unusual about transporting horses. The delightful clip shows Casey Perkins transporting a horse in his family van.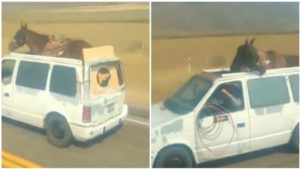 It is the same man who modified a motorcycle for transporting a horse and this video shows him no less creative and imaginative. He has really got skills and shows off his skills by posting these videos on the internet. He modified his van so he could take the horse for a ride or even transport him when needed. His wife has written on a comment on the video, "My husband Casey Perkins is the one riding the van. My husband started this whole deal a little over a year ago when he decided to modify the family van and hauled his horse in it.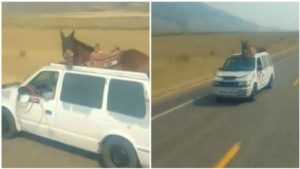 Casey is very creative and talented. When he puts his mind to something he goes for it. With a little help of family and a few close friends we were able to get Casey's new invention up and going and filmed." Watch the video for more!
This is one way to modify the family van.???????? #RodeoRig #SilverLiningHerbs #FastBackRopeswww.silverliningherbs.com

Posted by Silver Lining Herbs on Friday, September 8, 2017