It's always heartwarming to see rescued animals frolicking in their new homes – and it's even better when they do it together. From rescued lambs that run with pigs, to saved horses that love rolling around on a field together, moments like these are sure to warm any animal lover's heart. Below is another memorable moment that was filmed at the Habitat for Horses, a sanctuary in Hitchcock, TX, which houses more than 400 rescued horses.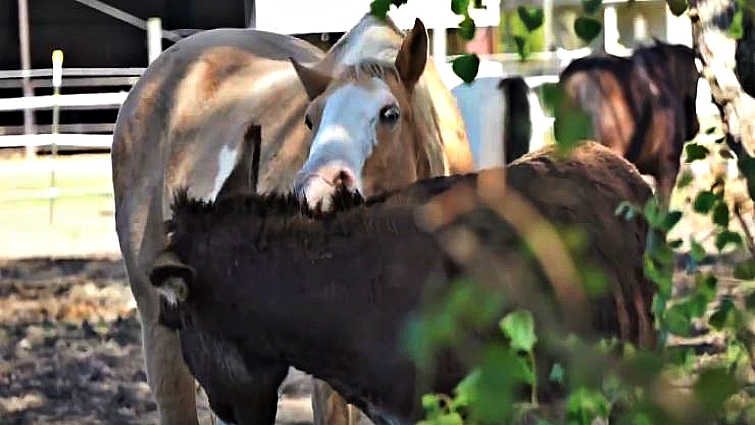 We see a horse named Ashton spending time with Job the donkey as they waited to be adopted. Ashton is described as a "handsome 12-year-old paint gelding with a winning personality," while his buddy is said to be "a rough and tumble donkey with a love for adventure." Through their playful interactions, it's clear these two are best buds.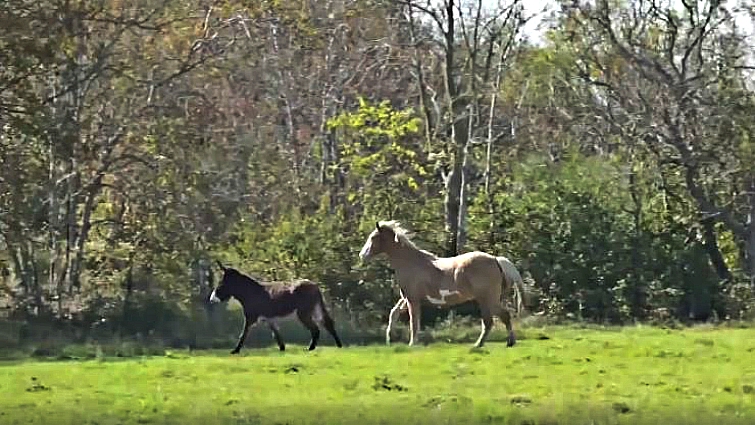 Just watch the way they run around together — simply adorable! "At this rescue, horses have the opportunity to build friendships with other rescued horses and live in a healthy environment while they await their forever homes. In the meantime, volunteers and staff have the chance to witness the fruits of their labor: happy, healthy horses (and donkeys) enjoying an afternoon together out in the pasture," the rescue writes on its website.

They definitely have a great connection. Going through the same thing helped them get support from each other and that's why they are best friends now. What do you think about this story? Let us know in the comments! If you do have interesting videos of horses, please make sure to send them to us. We would really appreciate them.
Rescued Horse and Donkey Playing

This is why we rescue. Ashton (horse) and Job (donkey) are two of our rescues and we had the privilege to see them romping out in the pasture having a great time! This video got us a "Standing Ovation" from Horse Nation on a job well done! To adopt, go to: habitatforhorses.org/ashton/

Posted by Habitat for Horses on Friday, January 22, 2016