A lot of trainers have difficulty in dealing with stallions and this because of their aggressive behavior. As a matter of fact, it's not easy dealing with stallions but there are great and amazing trainers out there who know the right ways of dealing with them, and one of these amazing trainers is Hemfling. What you are going to watch in this video is how he manages to tame a Lusitano stallion who was impoosible to handle.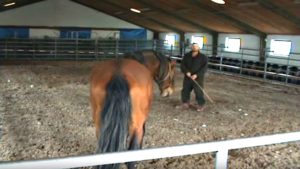 The stallion was brought from a professional Dutch Trainer who couldn't handle him any more as he was very green with a very dominant and difficult behavior. The video describes important parts of the fundamental work of the horse therapist Klaus Ferdinand Hempfling. He is at the forefront of new ideas on working and interacting with horses and is known for amazing groundwork with breeding stallions, considering their special potential and necessities. One of his specialties is the work with difficult horses, like in this video, he transforms dangerous, nervous, traumatized horses into cooperative companions.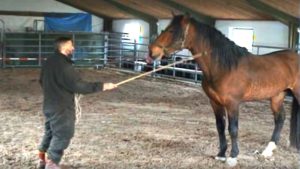 They recognize him as their leader, and become willing partners in groundwork and under saddle. He is fully open to the horse in this video and he is telling the stallion that he doesn't want to hurt him, he just wants to communicate with him. He is an inspiration for all horse lovers and trainers. Watch the video!