It is safe to say that Budweiser Clydesdales are the most popular horses in the world. They are a beautiful group of Clydesdale horses who are used for ads and commercials by the Anheuser-Busch Company,  an American brewing company established in 1852. There are various teams of horses, that tour all around the United States and others that stay only in their official homes at the company's office at the Anheuser-Busch brewery group in St. Louis, Missouri, or at Merrimack, New Hampshire.  Warm Springs Ranch is the permanent home of the Budweiser Clydesdales, and each year they embrace about two dozen foals into their big family.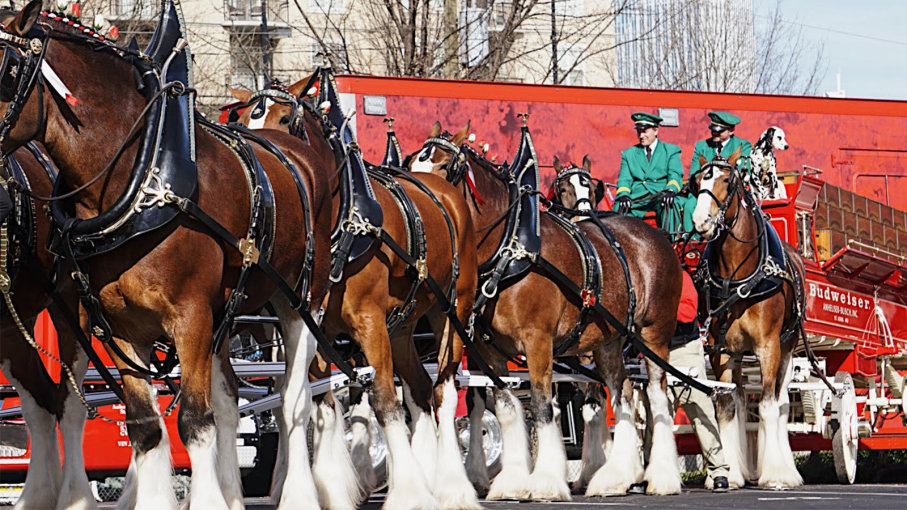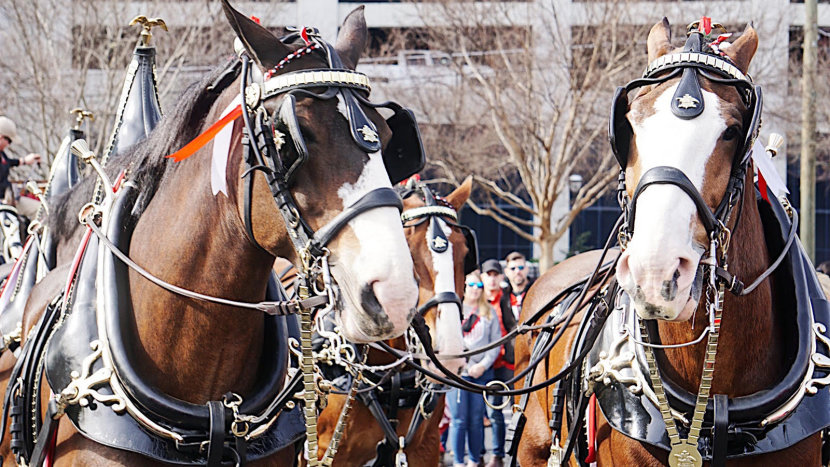 Both these places are only open seasonally and people can go there and visit them. The Budweiser Clydesdale's are remembered for their incredible advertisements and amazing features when taking center platform at events in many countries. Different Clydesdales are also very famous animal actors in television commercials for the Budweiser beer, especially in Super Bowl ads. Television publicity starring the Budweiser Clydesdales have a rich history in  Super Bowl tradition, which all began with an ad in Super Bowl XX in 1986. Below we are going to show you some of the most amazing facts you probably didn't know about the Budweiser Clydesdale horses. Keep reading!



1. The first Budweiser Clydesdales appeared in 1933. They were a present celebrating the end of Prohibition from August A. Busch, Jr. and Adolphus Busch to their father.

2. While the Clydesdales are the formal mascot of Budweiser, since 1950, these horses have had a mascot named the Dalmatian, also recognized by all as a coach dog.

3. The part of the Labrador puppy in the emotional commercial "Lost Dog" commercial was actually performed by 8 distinct puppies.

4. To keep the Clydes healthy and fit while they are touring in places without turnout space, their handlers walk four horses at a time for an hour.

5. Those 50-foot trailer equipment are actually barns on wheels because of that extended travel schedule. They draw 10 horses as well as all supplies, from grooming tools and basic veterinary kits to portable stalls and farrier tools. The only thing they don't bring with them is feed, which is sent individually to wherever their next stay will be.

6. It takes a team of five people only 30 minutes to completely braid eight Clydesdales before a public appearance. Four people take care of the manes and just one does tail.

7. After being admitted for an entry-level handler job that demands an agriculture-related degree and customer service background, the Budweiser Clydesdale support staff tours about 300 days of travel a year. All Drivers also do that, besides a four-month intensive of learning how to drive the Clydesdales.

8.The Budweiser Clydesdales used for advertisements are prepared by Robin Wiltshire of Turtle Ranch in Dubois, Wyoming. He uses awards and clicker coaching to train horses, dogs, steers, and other animals intended for commercials. He even impersonated the role of himself in a Budweiser Clydesdale ad.

9. To be elected as a traveling Budweiser Clydesdale, a horse has to be over 1.8 meters at the shoulder, which means it usually weighs about 907 kilograms. The horses are all bays, a deep brown color, with black manes and tails, with a wide white stripe (termed a blaze) between their eyes and below their face. They all have unique white feathering that reaches their hooves.

10. For Anheuser-Busch, breeding, coaching, and exposing these beautiful animals is now a multi-million dollar enterprise. Budweiser takes care of more than 150 of these noble animals, dozens are born each year at Warm Springs Ranch in Cooper County, Missouri. Several are transferred to Grant's Farm in St. Louis for a "prep" school. The best horses amongst them go back to Warm Springs when they're around 3 years old, for more additional training.

11. In various commercials, they have displayed their skills and delivered powerful messages by paying tribute to 9/11 accident and jumping barriers to get to a puppy friend. The 2019 Super Bowl advertisement which stars the Clydesdales and their mascot Dalmatian focused on the horses moving over an all-American plain, then pulled back to expose the surrounding wind turbines with the line, "Wind Never Felt Better.", promoting wind power.

12. Anheuser-Busch company donated enough clean electricity to Atlanta, the locality of Super Bowl LIII, to power the whole city for a week. The company also states that all of the electricity it uses to ferment Budweiser is completely produced by wind power.