Life is not as simple as it looks for celebrities. They are public figures who take the big risk to show themselves in every form with or without their approvement. From paparazzi's taking ugly pictures of them to dressing up in different ways only to entertain the public, we can guarantee you that their life gets pretty hard sometimes. As difficult it is to admit, we have all thought about these celebrities, who are posting below, and their uncanny resemblance to horses. Take a look at the list we have prepared and let us know if you want to add any other celebrity.
1. Pomp and Circumstance
This horse and the actor Ben Stiller look identical. We have to add that in the photo we have posted Ben is playing the role of Zoolander, a comedy movie I'm pretty sure you have all watched once in your life.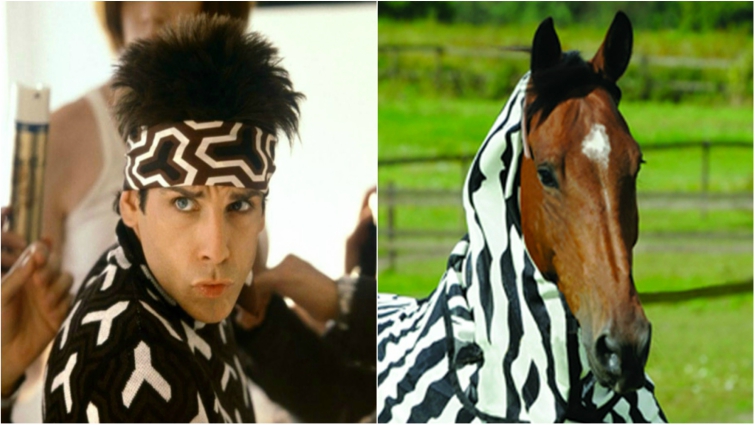 2. Tightly Wound
Bradley Cooper is considered one of the most handsome men in Hollywood and a lot of girls would give everything just to be with him, but we must admit that with this hairstyle, he looks exactly like this cute horse that we managed to find on the Internet. It was about time you changed that hairstyle, Bradley!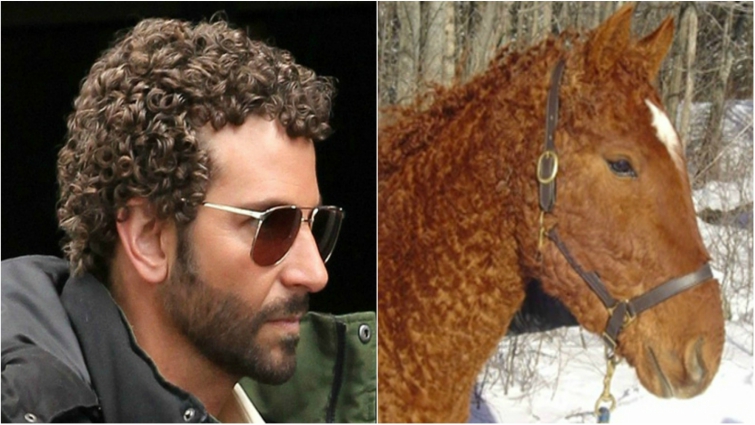 3.Over-acted
What do this funny horse and the famous actor Nicolas Cage have in common? Apart from the fact that one is an animal and the other one is a human, we can't see any difference. Nicolas Cage is known worldwide for his facial expressions, but this one tops them all.

4. Heartbreaker
Back then the actor Brad Pitt would be every girl's crush. Maybe it had something to do with his beautiful baby eyes, his blonde hair and most importantly his hairstyle, who looked just like this gorgeous horse. This is the photo I want to show to my hairstylist next time I'll color my hair. It is what us girls like to call it "Hair Goals"!

5. Just Beat It
Hip-hop singer and songwriter Kanye West has a long history of his non-smiling face on all his public appearances. Paparazzi have to work very hard to capture him smiling, but when they do… We can use the photo to prove that there is a perfect resemblance between Kanye West and this very good looking horse.

6. Speaking in Tongues
The actor and singer Miley Cirus likes to make sure every now and then that the girl she used to be no longer exists and there is nothing left from the 'Hannah Montana' era. She proudly poses with her tongue out, almost in every picture, and we can't help but think she has an identical twin she knew nothing about: this blonde modern horse

7. Born to Ride
This is not the first time the Oscar-winning actor Matt Damon is compared to a horse by different horse magazines when it comes to his look. By showing you these pictures, you will understand why they had every right to put his name up in those magazines.

8. Dirty Blond
The pop singer Christina Aguilera who became known worldwide with her music video "Beautiful", deserves to have a mention in this list only because of her appearance in the video. Her black and white hair along with her braids look a lot like this model horse we are presenting to you today. Who do you think pulled this look off?

9. Bieber Fever
Singer Justin Bieber's teen days are long gone and now he is a grown married man, but even though a lot has changed since then, every time we think about him, an image with his famous hairstyle comes right up in our mind. We think we aren't the only one to notice that this horse and Justin Bieber look like brothers. We have to say that we liked Bieber better this way.

10. Tickled Pink
Rihanna is also known as the girl who looks like a queen no matter what color and model she chooses her hair. We think every girl's dream would be to look as good as she does despite her hair being black, red, pink or pretty much every color of the rainbow. Nobody has had this ability, until now, because we managed to find the horse who competes Rihanna with his hair color.

In the end, we just wanted to add that this just a funny article and it shouldn't be taken seriously. We would be very grateful to acknowledge other people who share the same humor by letting us know so, in the comments below.