One of the things that we like the most about horses is those moments when they get to express their tenderness to the fullest. Given their height, horses seem somehow dangerous or intimidating to a lot of people who don't know much about them, however, they are as tender as young toddlers. There is no wonder why a lot of other animals get along very well with horses, even animals that you wouldn't expect like penguins or tortoises like we have seen recently in a few of recently posted articles.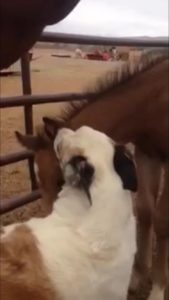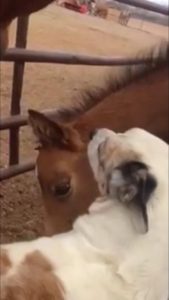 It is all about the interactions and a lot of times, the interaction between two animals who are completely different from each other can be surprisingly good. The instant bond between this baby horse and a new dog friend proves just that. A white and light-brown-spotted dog came with his owner, Jessica, to visit her grandmother's house in Olathe, Colorado. Beside the house were a large field and a couple of animals, including a 1-week-old baby horse. Quickly, the dog and the baby horse became acquainted by sniffing each other out and sizing each other up. The horse was so intrigued, it must have been her first time meeting a dog.


As they got to know each other better, the dog started to lick the baby horse's face as a friendly greeting. Soon, the brown horse decided to say hello to her new friend too. She nudged the dog's head away and leaned forward to kiss him on his side, right on one of his spots.


Luckily, Jessica grabbed her camera and captured the whole adorable moment on film. After all, it's not every day that we see a baby horse and a dog meet for the first time. The two animals were bonding so fast, they were almost inseparable after only a few minutes. Toward the end of the video, it looks like the two of them are going to be best friends. To see their first meeting and all the cute kisses, check out the video below.


These types of videos between horses and dogs are my favorites because this is probably the most popular animal duo that goes really well with each other, as thousands of videos on the internet have demonstrated. It is always a great idea being the owner of both animals because of the smooth relationship between both of them that is guaranteed. Simply heart-melting.